Tags
Related Posts
Share This
Once Upon a Lie by Maggie Barbieri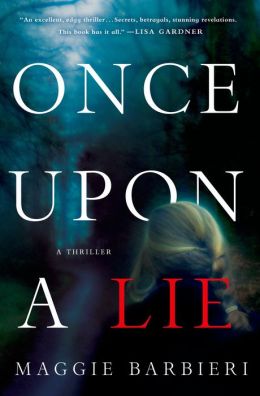 Minotaur Books
Pub date: December 10, 2013
Bakery owner Maeve Conlon is the divorced mother of two teenaged girls. She's also the daughter of an Alzheimer's-stricken ex-cop who's a prime suspect in the death of her cousin Sean.
Sean was a despicable human being, and truth be told, the world's better off without him. That doesn't mean Maeve's father won't spend the rest of his life in prison if he's convicted of Sean's murder, though, and while Maeve's positive he's innocent, the police appear unconvinced. So now Maeve's on a quest to clear her father's name – a quest that may well prove her own undoing.
I expected Maggie Barbieri's Once Upon a Lie to be a fluffy suburban mystery, full of cupcakes, petty feuds, and soccer moms. Once I cracked the cover, though, I quickly discovered that, much like the suburbs themselves, Barbieri's latest is much darker than its trappings might suggest. This book's engine is a mystery and the cover deems it a thriller, but if you ask me, Once Upon a Lie is, at its heart, a character study – one that's heartbreaking and terrifying in equal measure.
Maeve Conlon suffered years of childhood abuse, never uttering a word to anyone about the horrors she endured. She survived, but at a cost, because it's clear that Maeve's now a damaged human being. On the surface, she's relatively lighthearted, quick to laugh or crack wise; if you pay attention, though, you'll notice her humor's just a mask – one that could shatter at any moment should her grip weaken or falter. You feel sorry for Maeve and all she's endured, but you're also a little uncomfortable at being forced to ride shotgun with her; she strives to be a good mom, a good boss, and a good daughter, but despite her best efforts, it's clear she's not quite right. You're fairly certain you don't want to be there when she finally snaps, and yet you can't quite bring yourself to part with her company. Should you be rooting for her – or rooting for somebody to save her from herself? It's that question that ultimately kept me glued to my seat until I'd turned the final page.
Maggie Barbieri's Once Upon a Lie is an out-of-control roller coaster ride of a read; you're never really quite sure where the book – or Maeve, for that matter – is going to take you. It's a tale of fear and regret, of powerlessness and obsession, of vengeance and of sublimated rage, all kept hidden from view by the proverbial white picket fence. And if that sounds like your cup of tea, dear reader, then step on up.
Katrina Niidas Holm