Tags
Related Posts
Share This
OUT OF RANGE by Hank Steinberg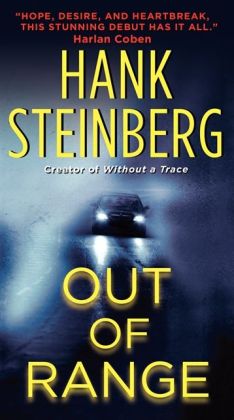 June 24th, 2014
William Morrow
9780062080530
Hank Steinberg the creator of the hit TV series Without a Trace has written an action packed novel, Out Of Range. Similar to the television show this thriller keeps people guessing until the final page. Unlike other authors famous for their visual media credentials, Steinberg created a plot that is fast-paced with likeable protagonists and nasty antagonists. He even gets this point across in a subtle way by referring to the good guys with their first names and the bad guys by their last names.
The plot takes off from the very first page when journalist Charlie Davis and his wife, Julie, an aid worker, barely escape a riot in Uzbekistan six years ago. Their friend Alisher Byko, a leader of the demonstration sees his wife and son shot to death by the government's police. Vowing never to put himself or his family in harm's way Charlie accepts a position at the LA Times while Julie becomes a stay at home mom, raising their two children. They appear to be enjoying the life of a normal suburban family, which must include taking the children to Disneyland. On their return trip from the happiest place on earth, Julie and the children get stuck in typical LA traffic. She is on the phone with Charlie, discussing alternate routes, and agrees to call him as soon as she escapes the traffic jam. But the call never comes. Fearful for her safety, Charlie races to the area he sent her to. There, he finds police surrounding her car. The children are both safe, but Julie is nowhere to be found. As with his TV show plots, Julie vanishes unexpectedly without any rhyme or reason. As he searches for her, Charlie discovers secrets Julie has been hiding. Determined to find his wife and get answers from her, Charlie sets out on an international investigation that leads to the dangerous world of espionage and terrorism.
As with most thrillers the protagonist becomes an action hero to save the day. At times believability is suspended but this in no way distracts the reader from the fast-moving and intense plot. There are a number of fascinating subplots from the motivations of the characters to understanding the conflicts within developing countries in Eastern Europe.
One of the most interesting parts of the book is the portrayal of Julie as a discontented stay at home mom. These feelings appear to drain the spark from their marriage, to the point that Julie contemplates leaving Charlie. The tension in their marriage has Julie searching for something more than just being a housewife, which is why she decides to help British intelligence find a terrorist whom she knows from her college days. This subplot is a great story about people who just want to make a difference in their own small way.
Out Of Range is an intriguing story with many twists and turns. Readers will be kept on the edge of their seats with this suspenseful plot. There is non-stop action from beginning to end with fascinating characters.
Elise Cooper