Tags
Related Posts
Share This
Paws for Murder by Annie Knox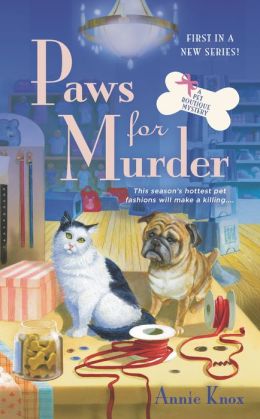 PAWS FOR MURDER by Annie Knox
Pet Boutique Mystery #1
Obsidian
Pub Date: January 7, 2014
Izzy McHale always assumed that by now, she'd be married to her childhood sweetheart, living and working in NYC – not single in her hometown of Merryville, Minnesota, using her fashion degree to design clothing for pets. She's determined to make the best of her situation, though, and decides that launching a pet boutique with the help of her childhood friend Rena would be a good first step.
Trendy Tails seems poised for success – until annoying town activist Sherry Harper pickets the grand opening, causes a massive scene, and gets herself killed in the alley behind the store. To make matters worse, all evidence points to Rena as the culprit, so unless Izzy can solve the mystery surrounding Sherry's death and bring the real killer to justice, it looks like she'll soon be starting from scratch all over again…
I was a huge fan of Wendy Lyn Watson's Mysteries A La Mode, so when I heard that Watson would be writing Pet Boutique Mysteries for Obsidian under the pen name Annie Knox, I was over the moon. Paws for Murder is the first in that new series, and just as I expected, it's everything you could hope for in a good cozy. Knox's prose is snarky, clever, and addictive; I spent the duration of the tale dying to know what happens next, yet simultaneously wanting to savor every word. The story is swiftly paced, the plot is tightly woven, and the mystery's a real head-scratcher, but Paws for Murder is more than just a great whodunit – it's also a book that illustrates the importance of being true to yourself, regardless of what others may think of your chosen path. Knox uses Izzy's trials and tribulations to teach readers an important life lesson without coming off preachy, precious, or pretentious, and for that she deserves no small measure of praise.
Finally, no review of Paws for Murder would be complete without a nod to Knox's stellar character development. Each and every one of her cast members, from protagonist on down to pet cat, is vividly sketched and fully realized, but it's the nuanced and complicated relationships they share that really elevate Knox's characters and give them life. It's a joy to spend time with the inhabitants of her fictional universe, and I, for one, look forward to our next encounter.
Katrina Niidas Holm