Tags
Related Posts
Share This
Pet Spotlight:Richard Kadrey's Aces & Eights
Names: Aces and Eights
Breed: A couple of SPCA mutts
Age: 2.5 months
How did they come to be a part of your life?
Richard Kadrey: A few months after our cat Isotope died, my wife and I discussed getting another cat. However, we knew it wouldn't be easy. Even as an adult, Isotope was an energetic and eccentric cat. She loved stealing food, and I lost more than a few egg rolls to her. She also liked sleeping behind my iMac and popping her head over the top to see what I was working on. It was great having her in the office.
When we decided to look at other cats, we realized that only a young cat would have the energy and touch of madness that Isotope had her whole life. But finding a cat with as big a personality as hers seemed unlikely, so we did the only logical thing. We decided that it would take two kittens to take the place of our one lost cat.
We found Aces and Eights—a bonded brother and sister pair—at the SPCA and got along with them immediately. Aces, the small black male, was full of energy and everyone's friend. Eights was a little more reserved, but very playful and affectionate when she got to know you.
Unfortunately, both cats were ill with respiratory infections when we first met them, so it was nearly two long weeks before we could take the home. Once they get here, they immediately took over.
How have they changed your life?
RK:It's great having that amazing spark of cat eccentricity back in the house. Things had begun to feel a bit drab around here without Isotope. Aces and Eights can't replace her, but having two little beasts running wild, jumping on each other and knocking things over has made the house feel bright again.
Any bad habits, Odd quirks or foods?

RK: Aces is the obvious juvenile delinquent of the pair. He has a big voice and isn't afraid to use it, especially if he thinks that someone in the house is eating. If he sees you holding food in your hand, he'll climb your body and the whole length of your arm to get to it. We're trying to break him of the habit, but it's a slow process.
Eights is a subtler troublemaker. Mostly, she's an escape artist. If we're trying to keep her in one room, her favorite trick is to pretend to be asleep. The moment your guard is down, she'll jump up and be down the hall before you know what happened.
We're very lucky to have found these two wonderful kittens. As hard as it is to get work done when they want to play or they both decide to sleep in your lap at the same time, it's worth it. Right now, Eights is napping on the cat tree (or maybe she's just pretending). Aces is passed out across my legs as I'm writing this. It isn't the easiest way to type, but I wouldn't change a thing.
Richard Kadrey is a freelance writer living in San Francisco. He is the author of dozens of stories, plus 14 novels, including Sandman Slim series. His Wired magazine cover story, Carbon Copy, was made into one of the worst movies of 2001. It starred Bridget Fonda. Sorry, Bridget.
He has been immortalized as an action figure. "Kadray [sic]: The Invincible Wizard" was a villain in an episode of the Blackstar animated TV series.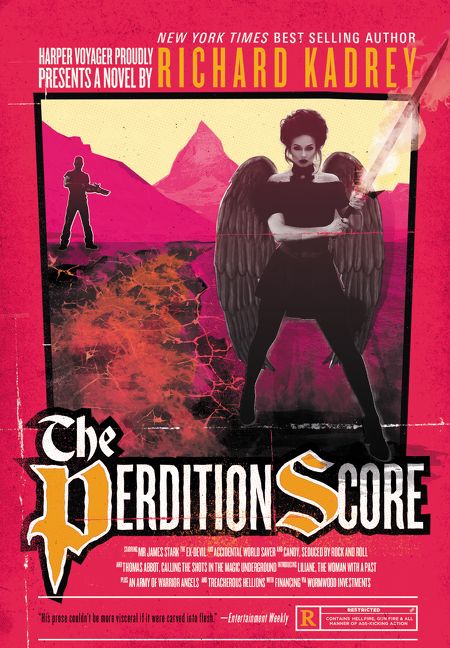 Kadrey created and wrote the Vertigo comics mini-series ACCELERATE, which was illustrated by the Pander Brothers. He plans to do more comic work in the near future. He has written and spoken about art, culture and technology for Wired, The San Francisco Chronicle, Discovery Online, The Site, SXSW and Wired For Sex on the G4 cable network. Richard has no qualifications for anything he does.
THE PERDITION STORE, the ninth book in the Sandman Slim series, will be released on June 28th.