Tags
Related Posts
Share This
Pope's Last Case… and Other Stories by Michael A. Black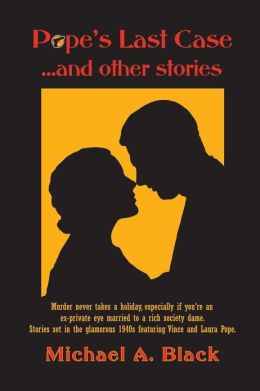 Oak Tree Books
Pub date: March 27th, 2013
This fun 1940's noir collection features ex-Private Eye Vince Pope and his wife Laura. The stories are in the style of Sir Arthur Conan Doyle in that the clues are cleverly provided in each adventure so readers can ferret them out, though Vince and Laura usually do it quicker. The first story, "Whodunit?" solves a murder on a moving train. Another features a missing valuable pendant and another a criminal politician. The final story is an intricate novella involving a series of killings and mutilations.
The husband and wife team have great repartee and humor as they both bring different skills to the cases. Black does well with partner stories as in his Leal and Hart contemporary police procedural
series, and this aspect also does well in the 1940's in this collection. it is refreshing to have different locations and types of murders with the same detectives providing a unique style and pace in each story.
Fans of both hard and soft boiled vintage stories will find a lot to like here.
–Amy Alessio