Tags
Related Posts
Share This
Q & A with CJ Box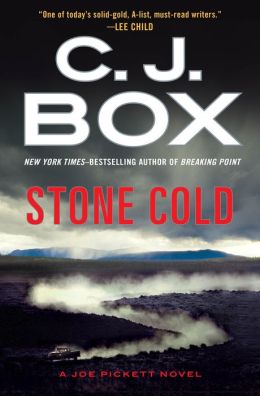 C.J. Box's latest, Stone Cold, a Joe Pickett novel, as with his other thirteen books, are all based in Wyoming. They have the flavor of a modern day Western where the setting becomes almost a character in itself. Box's novels always include two plots: one involving Pickett's family and the other, a story of adventure, with some political intrigue and culture from that part of the US. In this book the two intertwining plots involve Pickett's college age daughter and the other a murder for hire company, based in Wyoming's Black Hills. Each piece of the story goes beyond the "who done it," allowing the reader to question modern day issues. 
Elise Cooper: Did you know that Lynne Cheney, the former Second Lady of the US and a Wyoming citizen is a big fan of yours? She directly commented to us, "I love Box's novels.  His realistic plots yield plenty of surprises, and his characters are fabulous, especially Joe Pickett.  And all of this is set against an evocative Wyoming background that he draws perfectly. There is never a false note to break the spell.  I hope Box keeps writing for many years to come."
C.J. Box: I heard her when she did a feature on national public radio where she recommended my books. She said anyone interested in western issues should read the books. I am honored.
EC: Did you ever meet the Cheneys?
C.J.: A few years ago I was invited to the White House with my wife. We visited with VP Dick Cheney for about an hour. We talked about hunting, fishing, and game wardens we had known. We both knew the same ones because we both are from Casper.
EC: Did you discuss with the former Vice-President that fact that he has all daughters, the same as you and Joe?
C.J.: We all have the same situation. In one of my earlier books Joe calls his house, the house of feeling. I have three daughters myself and we have lots of animals, most of which are female. I think this helps me to write from Joe's point of view. I also think by having the family present in all the books attracts some readers who might have otherwise not have been drawn to these books. I do have a lot of women readers who say they focus more on the family interaction and how the daughters are growing up more than the action plot. I would say my readership is 50-50 between males and females.
EC: In your books there always seem to be two plots, a family based one and the issue based plot. Do you agree?
C.J.: Not always, but often. I like telling the story from multiple points of view. I find it an interesting technique that draws the readers into the plot. I hope the readers see how these plot lines merge together in the end.
EC: Some have described Joe Pickett as having John Wayne characteristics. Do you agree?
C.J.: I don't think so since Joe is not necessarily a good shot. He is upright but also makes non John Wayne-like mistakes. A few years ago I got an email from Gary Cooper's only daughter. After reading one of my books she thought the portrayal of Joe Pickett was a lot like her father's portrayal of characters in his westerns. I never thought about that, but Joe's personality is more along those lines, quietly gets things done and not overly aggressive.
EC: In the beginning of the book you have two diverse quotes, one from Voltaire and one from Hank Williams Jr. Do you always do that?
C.J.: I do. I try to choose the ones that will bring out or exemplify the themes in the book. Yeah, they are pretty diverse and I usually find them after finishing the manuscript. I find the appropriate quotes through a Google search or coming across them while I am researching. In this book the Hank Williams Jr. quote came about because that line is from a song Joe Pickett hears while traveling to Medicine County.
EC: Do you like country music?
C.J.: Yes. Older stuff like country swing and Asleep at the Wheel stuff. One of my favorites is Lyle Lovett.
EC: It seems your endings leave things up in the air. Is that intentional?
C.J.: I often do that, but not with the main plot. There are certain threads that run through the series. Those are the ones I don't often conclude and have them reappear in future books. I think doing it that way is more realistic since things don't always wrap up neatly in life.
EC: You are known for putting timely issues in your books. Can you discuss a few of them? The 2nd Amendment comes into play in this book when Joe's daughter, Sheridan, is worried about a fellow dorm student at the University of Wyoming who appears to have a mass shooter type personality.
C.J.: What I put in the book is really happening in Wyoming where students can have up to three guns, but not in their dorm room. They need to store it with the UW Police Department. Times have obviously changed since when I was younger I had a rifle in my high school locker for finding prairie dogs. In my college days we would have our guns to go hunting. I am a big 2nd Amendment supporter but I wanted my readers to question the issue of allowing guns in dorm rooms. I remember my college days where we twenty-one year old boys would get all liquored up. I am not so sure it is a good idea to have a gun then. I go back and forth, but I do think what is being done today is a fair compromise.
EC: What about people becoming dependent on handouts since you have Medicine County residents indebted to landowner Wolfgang Templeton?
C.J.: There is the perception in this country that some bad people are untouchable because they are part of the elite and part of the system. This is something Templeton and Nate address since they go after people that cannot be touched in any way due to their connections. Regarding the other issue, Templeton, to gain control, established in this county handouts to take care of everybody and bring the people on his side. Yet, they want more and more from him. This shows how the county people became dependent, unhappy, and is always asking for more and more. Both Templeton and the county people become hostages to each other.
EC: Where did you get the idea of Templeton?
C.J.: The idea came about several years ago when I was talking to some members of a long-time ranch family from a remote part of the state. They told me about a prominent fellow rancher who was also a great local philanthropist. The rancher in question would fly away in his little plane, be gone for a few weeks, and return with armloads of cash. There was this rumor he was a high-class hit man. But because he was so generous, no one asked many questions.
EC: Can you give a heads up about your next book?
C.J.: It will also include Nate. The plots will include Joe's daughter April's disappearance that will be intertwined with a plot surrounding endangered species and the effect it has on energy development. I will present both sides and let the reader come down where they might. Joe will not take a stand, but will just do his job.
EC: Since your main character is a game warden you must know something about fishing and hunting.
C.J.: Yes. I am more of a fly fisherman. But, the last two years I have hunted an elk. I have killed a lot of animals over the years but not for trophy hunting since I have eaten them for food.
THANK YOU!