Tags
Related Posts
Share This
Q & A with J.A. Jance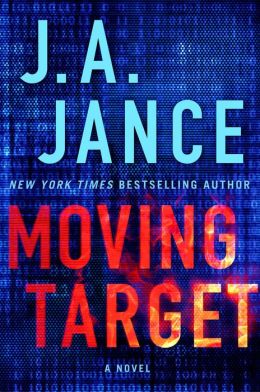 Moving Target, just released, features the character Ali Reynolds and her supporting cast: her fiancé and computer expert B. Simpson, her longtime gay household assistant, Leland Brooks, and her good friend, Taser carrying nun, Sister Anselm. This book involves two plotlines that take place in Arizona, Texas, and England. Although the plots are basically unrelated, Jance is able to weave them together through Ali and B's relationship. The first plot explores Leland's background, why his parents supposedly disowned him for being gay, and a cold case that Ali helps to solve involving Leland's family. The second plot involves the technology world of today and introduces a powerful character, Lance Tucker, a talented teenage computer hacker who developed a program, GHOST, which allows users to surf any part of the web completely undetected.
Elise Cooper: Are you computer savvy that you were able to write about this topic?
J.A. Jance: NO. I could barely operate the remote control on my television set. My secret weapon is my electronic engineer husband who sent me an article about "the dark net." I learned the Internet is very convenient for us to shop online but there are ways to enter a website's portal where you can buy the bad stuff as well, from pornography to drugs, without leaving a cyber trail. There is also a big problem with these student locator systems. Kids feel that it is an invasion of their privacy rights, which is why Lance hacked into the system. I am in Lance Tucker's corner with this one. I have to tell you that the GHOST program is a figment of my imagination, not bad for a literary arts major.
EC: Is this your fiftieth book?
Jance: Actually I have written 51.4. The fifty covers my 49 mysteries and one book of poetry. I will have a Brady mystery out in July and am currently working on the next Ali Reynolds book. Now I plan on working on my 100th. Pretty remarkable for someone not allowed in the University of Arizona's writing program in 1964.
EC: You always include some form of sexual discrimination in all of your books. Can you comment?
Jance: I was not allowed in U of A's writing program because I was a woman. The vast majority of women from that era came complete with many mixed messages. This was a time when girls who wanted to become doctors became nurses; girls who wanted to become engineers became high school geometry teachers; girls who wanted to become ministers became ministers' wives; and girls who wanted to become writers married men who were allowed into creative writing programs that were closed to women. Even when I started writing I was told that readers would not accept a female writer of police procedurals, especially the male readers. My first six books had no cover picture or biography and I had to list my name as J.A. Jance.
EC: What about Moving Target, where is the feminist comment?
Jance: Even though I consider myself a feminist, in looking back I think the early day feminists lost their sense of humor and never got it back. I enjoy writing about things I really care about and what is important to me. In Moving Target I put that scene in where a character was barred from being accepted into Oxford by an all male admissions board. I had her hiring only women for the lab and loved the line, 'Payback is a bitch.' By the way, I got even with that professor by turning him into a crazed killer, Andrew Phillip Carlisle, in my first hardback, Hour of the Hunted.
EC: Can you discuss the Ali Reynolds character?
Jance: She lost her job and her marriage in the first book. Ali is resilient, tough, and someone who can be looked up to. I thought of her character when my favorite newscaster got cut because she was turning fifty. She was replaced by a 35 year old and within minutes after she was off the air I started writing this series.
EC: What about some of the supporting characters?
Jance: Although I made Leland gay he is a person who is gay, not a gay person. His homosexuality does not define who he is or is not. He is a wonderful person who has a true blue nature. I made sure his gayness did not get into people's faces. It's a telling story of one character that happens to be gay. He was only supposed to be in just one book, but now in six books I decided to write an imaginary story of his life.
Lance Tucker is a great character that will be in future books. I cannot have a character like that show up and then drop him. Basically this was a story about people where I intentionally compared the two character's families. One family was very supportive with unconditional love while the other family was very dysfunctional.
EC: Can you give a heads up about your next books?
Jance: Due out this July will be a Johanna Brady book where readers will find out what happened to her dog Tigger, based on the Winnie the Pooh character. He is half pit bull and half golden retriever and could jump like nobody's business. I am currently working on my next Ali Reynolds book. It takes place in Minnesota during the wintertime, and has a plot that delves into how certain religious cults treat women.
EC: If I remember correctly you are a Seahawks fan?
Jance: Yes. I also became a huge fan of the city of Seattle when I saw thousands of people lining the streets, celebrating without any violence. It was just people standing in freezing weather welcoming home the team. I was very proud to be from Seattle as I watched that on TV.
EC: What would you like to say to your readers?
Jance: I owe a huge debt to those who read my mysteries. I am happy and honored to be the guest of honor at the Bouchercon World Mystery Conference this November. I hope everyone enjoys the stories written.
THANK YOU!