Tags
Related Posts
Share This
Q & A with Mark Greaney
Elise Cooper: What was it like working with the icon author Tom Clancy?
Mark Greaney: I was called in 2011 and was asked if I would like working with Clancy. My first reaction was, 'how am I going to get out of this' because I was totally intimidated. It turned out my editor at Berkeley was also Tom Clancy's editor at Putnam. Tom was looking for a new co-author. My editor went to my agent who then asked if I would like to co-author the next Tom Clancy book. I wish I could say I was excited, but the truth is, I was terrified. I have been a massive fan of his since The Patriot Games in 1987. I have first editions of most of his books and have read all of them. I wrote twenty-five pages, handed them in and soon thereafter, I was in Baltimore meeting with Tom Clancy where we spoke for about three hours. We wrote three books together in 2011 and 2012. When we worked together, I never tried to copy his style.
Elise Cooper: Were you surprised you were so accepted by Clancy fans?
Mark Greaney: He died in October 2013. Within a couple of weeks I was told by Putnam they wanted to contract with me to continue his books. Full Force And Effect is well received, including being on the New York Times Bestseller list. I am blown away and happy that the book is being so well received by fans. During the book tour I was constantly thanked for continuing the series.
Elise Cooper: Since this is the first book written on your own did you try to parrot Clancy?
Mark Greaney: I told myself I would not make a conscious effort to write like him. His writing influenced me since I was such a fan. Being a reader I knew what fans want from these books. I tried to stay true to the characters, such as continuing to write Jack Ryan as a normal American. From having written with Tom, I certainly know the voices of the different characters. Once I began this novel, I told myself not to do anything differently from when we collaborated, except this time, I would be solely taking the entire project all the way through. Working with him gave me the confidence to take this project on, and write an aggressive story. I did create some characters. For example, the logistics coordinator Adara Sherman was someone who I came up with and expanded her role.
Elise Cooper: Are you next on North Korea's list?
Mark Greaney: When I was up in New York this summer people said they would not be surprised if North Korea came back into the headlines. I do not think anyone could imagine the magnitude of what they did. There is a small coincidence. Columbia Pictures, a part of Sony, is developing a film based on my own first book, The Gray Man. Some of the hacked emails were from the directors assigned to my film. The comic world websites recognized that my directors are also the directors of "Captain America" and "The Avengers" movies. They briefly spoke about The Gray Man in their hacked emails.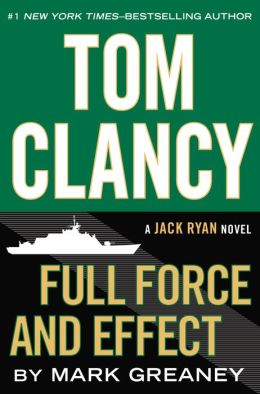 Elise Cooper: Can you discuss 'The Campus'?
Mark Greaney: Tom invented it in 2003. It is an off the books organization set up by Jack Ryan Sr. when he was President. It is not part of the official US intelligence and is a way to write street level espionage, the tactical issues of assassination, hacking, and surveillance, by keeping President Jack Ryan Sr. unaccountable. The Director of National Intelligence, Mary Pat Foley, has sixteen organizations under her and The Campus is the unofficial seventeenth. They get information from her and report back to her.
Elise Cooper: What do you want readers to get out of this book?
Mark Greaney: I am a blue-collar guy. I want people to say this is a good Tom Clancy novel. Through my research with think tanks and sitting in non-classified Pentagon meetings, I look for nuggets that people will find interesting, fun, and exciting with the possibility of learning something.
Elise Cooper: Can you give a heads up about your next book?
Mark Greaney: I will write another book coming out next Christmas. I would like to go back and continue the story of Command Authority because the villain is still out there. I think it is important to show how Russia is involved in so many theaters and conflict zones internationally. In my opinion, the greatest threat is Russia's Vladimir Putin. I see him as more of a threat than ISIS. Putin has influence in Syria. The Russians are heavily involved in weapons proliferation in South America, Asia and the Middle East. I know we hear things about China's power, especially relating to cyber warfare, but my research indicates it's really in China's interest to work with us. Vladimir Putin is more of a loose cannon whose self-interest involves working against us for many reasons.
I am also writing the fifth book in The Gray Man series. It continues the storyline of an operative burned by the CIA who now works as a contract killer. It is anti-big bureaucracy. This new book has him in Washington DC where he begins to unravel what is going on.
THANK YOU!!