Tags
Related Posts
Share This
Q&A with Beatriz Williams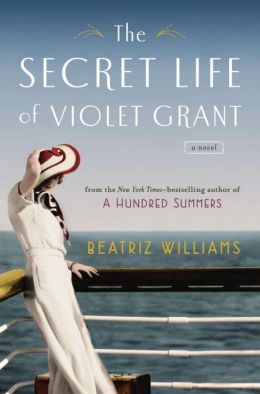 The Secret Life of Violet Grant by Beatriz Williams is a riveting tale of two women who lead parallel lives within different eras. It is a historical romantic mystery that is both suspenseful and informative about the role of women during the early 1900s and the early 1960s. The two generations of women, told in an alternating points of view, spans over 50 years.
Elise Cooper: How did you get the idea for this storyline?
Beatriz Williams: I got this idea from a newspaper article. Then I thought about what historical events I want to tap into. What is the particular quality of an era that will be interesting? I have these issues swimming in my head and start creating the story around them. I then create the characters. In this book I wrote Violet first since her story is the mystery that has to be solved. The suitcase idea came from my husband's grandfather caught in Germany with his mother as the First World War broke out.
EC: Vivian and Violet seem to parallel each other. Do you agree?
BW: YES! I started with the initial 'V" in their first names. I thought the names fit the characters perfectly and symbolized how the characters were similar and set off from each other. They paralleled each other with love and this really links them together at times. Both women had to fight for their careers. I watched movies from the 1960s to get their feelings correct. Violet was this ambitious and vulnerable character. Vivian was her counterpart in a different way regarding strengths, ambitions, and dependencies.
EC: Does Lionel Richardson seem to change his views toward women?
BW: Yes. There are two quotes in the book that summarize his attitudes. He talks about himself, 'Should never allow my wife near the laboratory. Primitive brute of the worst sort. Naturally I'd expect I would be her life's work.' And later on he tells Violet, 'because I'm in love with you. Because you fill my head, my chest, until I can't breathe without you. You have me. You have me, Violet, you have my life in your hands…' These quotes show how Lionel made an effort to change himself to be the right man for Violet. I made Violet his redemption since he turned into a very good man.
EC: How would you describe Walter?
BW: I based him on a real Victorian-age person who was a sex addict. He had a notion of women being child-like. The idea for the journal came from the real life published sex memoirs where this guy wrote about his experiences. It is 2000 pages of utter filth, so graphic. I definitely was able to draw upon the vocabulary and tone that was needed. This 'real Walter' was a piece of work. I incorporated this real story into the fictional Walter and how he manipulated Violet to get into bed with him.
EC: Why would independent women allow themselves to be so manipulated?
BW: Violet was dependent on Walter, because her ambition made her vulnerable. He was able to comprehend what made her tick and use that to his advantage as he controlled her. Where would she go if she walks away from him? How would she find another job? She appears entrapped in this situation. She saw in Professor Grant a father figure who she trusted. It was as if she had to be super sexualized to feel worthwhile. No matter what else she did and what else she accomplished she still had to be irresistibly attractive to Grant.
EC: Although the protagonists were attractive women they were not beautiful. Why?
BW: I think the beauty was in their personality and inner grace. In my next book I have this quote, 'only the rich deserve an affair.' This is because beautiful women will be with ugly, timid, or unpleasant men. But they will never be with a poor man. Wealth equals power and power finds or buys beauty.
EC: You also explore some women's issues. Can you explain?
BW: I wanted to explore how women must balance the desire for a home and family against wanting a public persona. This crosses eras and centuries. The other important issue was the dynamics of power. Powerful men always seem to abuse their position and take advantage of young women in the workplace.
EC: Your writing style literally has the characters talking to the reader. Why?
BW: I like to think that the character is relaying their story to the reader. I think that it makes a great narrative. They are to be advocates for their position. I am very conscious of the reader when I am writing the book. The character is trying to tell the reader the story of their life as they justify it to themselves. They are promoting the decisions and choices made. I hope the readers through this type of narrative considered the characters as real people, like a devious friend.
EC: Why this quote by Einstein in the beginning of the book? "Gravitation is not responsible for people falling in love."
BW: I love how quotable Einstein is. He had a real knack for one-liners. His own love life was somewhat tumultuous! I loved the idea of putting a quote from Einstein about love, since he appears in the book. Don't you think it is a great quote?
EC: What do you want readers to get out of the book?
BW: A perspective into historical events and a historical period. I wanted to put the readers inside the heads of the characters. For everyone to get a deeper understanding of how they lived and what they thought in the context of a historical period. I also wanted to explore the never-ending difficulty women face when they try to reconcile their professional and personal lives. I enjoy having these two pieces in my book: the fun and juicy story plus the deeper issues.
EC: Can you give us a heads up about your next book?
BW: There will be two out next year. The first one, due out next summer, features Vivian's sisters, Tiny and Pepper, who are both hiding their own secrets over the course of spending a summer on Cape Cod. Tiny, who had a brief introduction in The Secret Life of Violet Grant, has married into an ambitious Kennedyesque family. The second book, due out later next year, picks up Pepper's narrative, and shifts back and forth between the East Coast of 1966 and Europe in the years before the Second World War.
THANK YOU!!