Tags
Related Posts
Share This
Q&A with C.J. Box
Author C. J. Box has written formidable novels, fourteen in all. With his latest book, Shots Fired, he has exceptionally ventured into the short story realm. The plot lines vary from adventure to crime procedural to historical. There are ten stories, three of them never published, and four include Box's main character Joe Pickett, although in the story "The Master Falconer" he makes only a cameo appearance.
Elise Cooper: What is the difference between writing a short story and a novel besides the obvious, the length?
C. J. Box: Short stories are harder to write. The elements of a novel have to be introduced and dealt with in a short period of time: the who, what, where, and when. A short story must be self-contained. It has to quickly and efficiently come to a point. For example, in most of my novels I have a dual storyline, one involving the family and the other involving the action part. I cannot do this with a short story. All of these short stories are stand alones and will not be a prelude or a continuation to a novel.
EC: Do you have a favorite?
C. J.: I like them all but "Blood Knot" touched me. It was challenging to write a story that is only about 1000 words and I wanted to show the relationship between generations.
EC: "Pronghorns of the Third Reich" involves some historical facts. Can you explain?
C. J.: I saw this photo and got the idea for the story. I was asked to contribute a short story about bibliophiles, book collectors. While I was trying to decide what to write I ran across this photo. I am still astonished by the photo and the real life story behind it. I keep that photo on my iPhone and sometimes look at it in astonishment.
EC: Do you think "The Master Falconer" will be a lot of people's favorite?
C. J.: Probably. It was written years ago as a limited edition publication. There were only 250 copies released so very few people had a chance to read it. As a heads up in the book out in March, Nate will be in it. He starts out in Federal prison and is released on certain conditions.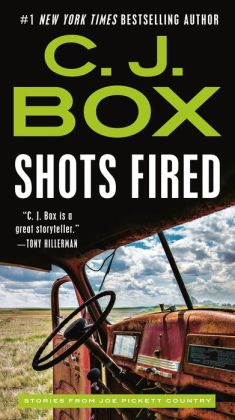 EC: Which stories were written specifically for Shots Fired?
C. J. : "Blood Knot," "One-Car Bridge," and "Shots Fired: A Requiem for Ander Esti."
EC: Can you talk a little about "Le Sauvage Noble (The Noble Savage)"?
C. J.: It has western elements where the West is brought to Paris. I was there as part of a contingent of state tourism representatives who were in France to gather clients. At a reception at the American embassy there were some American Indians. I found myself standing next to two fully dressed in their native attire. I found out they were from Oklahoma and asked why they were there. They told me with a wink that French women liked the idea of having sex with Native Americans. The next night we attended the Wild West Show at Disneyland Paris and I saw what the Indians told me was true.
EC: Is your dog of choice a lab, considering Daisy and Champ are written into the storyline?
C. J.: Yes. I have had five different labs in my life. My current one is a yellow lab that I named Daisy. A lot of game wardens drive around with their labs inside. Labs are the best whether for hunting or just a family dog. I don't think they have a vicious bone in their body. My wife has a great line for them: 'if aliens landed on earth and wanted to see a dog you would show them a lab.'
EC: What would you like the reader to get out of this?
C. J.: A lot of people don't read short stories, especially since they are not readily available. I hope they are exposed to a short story and see that unlike a novel they can read portions at a time since each section is a stand-alone.
EC: Are you doing anything special this summer?
C. J.: I will be attending the Cheyenne Rodeo in July. I have been involved with this for twenty-five years. I was a volunteer for the bucking event and was on the Board of Directors. This year I will just be signing books.
EC: Rumor has it that there might be a Joe Pickett TV series. True?
C. J.: An offer is on the table from Viacom. The CMT Channel wants a scripted series and they thought of my books. Robert Redford could be the executive producer. Even though regarding politics and entertainment we are divergent, I know he is a big fan of western stuff. Unfortunately, when the rights are sold the best input I could possibly have is as a consultant. At this point there are no creative conversations: no script ideas, or who would play the characters. I will let you know more in March when we talk again.
THANK YOU!!