Tags
Related Posts
Share This
Q&A with Catherine Coulter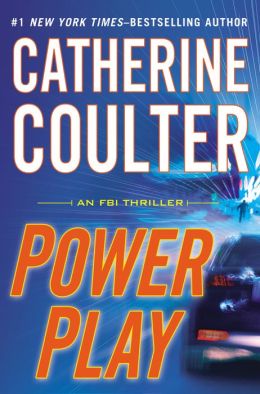 Power Play is the 18th FBI thriller by Catherine Coulter, starring Dillon Savich and Lacey Sherlock. Special Agent Davis Sullivan from Bombshell is brought back with a prominent role. As with all her books, there are two intertwining plots. One has the FBI searching for the person who is attempting to kill Natalie Black, the US Ambassador to the Court of St. James, while the second plot brings back a psychic madman from KnockOut.
Elise Cooper: Since you write about the FBI do you consult with anyone?
Catherine Coulter: About six months before 9/11 I was invited to go to the Washington DC office. They have this unit there that is responsible to know everything written about the FBI. Since I am obviously pro FBI they allowed me to attend meetings, speak with agents in training, and meet veteran agents. Of course, after 9/11 no one gets in there so I consider myself very fortunate. One of my connections that provide information about the FBI will help me get answers to certain questions I have.
EC: Do you want to be realistic about the small details as well?
CC: Yes. When I was told Savage's unit moved from the sixth floor to the third I changed it in my book. I also changed the type of gun used to a Glock. I want to make it as realistic as possible.
EC: This book has a lot of football as a backdrop. Why?
CC: I'm a die-hard pro football fan, not high school or college. I'm not as immersed as Perry Black, a sports writer with the Washington Post, whose father was the team doctor for the Redskins. However, my own dad started me on football when I was eight years old. We're talking Texas here, where the Cowboys are king. In fact, I was so close to the Cowboys, I sat on Tom Landry's knee. When I moved to San Francisco, however, things changed. I was a 49er fan after the first year, and, needless to say, came to hate the Cowboys with an enduring passion: a requirement if you want to move to San Francisco.
EC: Why did you include Tim Tebow in the book?
CC: I put Tim Tebow in the book because everyone knows who he is and most really admire him. He's honorable, honest, a huge role model, strong, tough and the fact of the matter is, I think he would make an incredible tight end. I want him to come back and I want him to succeed, to be the 'Sea Biscuit of the NFL.'
EC: There is a line in the book that every American can relate to, "I think in another time politicians made good grave robbers. And now they don't even wait until the night to strip us to our skin." Did you want to express the feelings of Americans?
CC: Actually, What I said isn't true at all. Politicians never waited until night to strip us to our skin. Politicians have never changed; they simply have more spin-doctors now. In Bombshell, I went after the banks that tried their best to bankrupt the world, and the pharmaceutical companies in Whiplash. In all these cases these people are real scary.
EC: Did you base Sherlock on Sherlock Holmes?
CC: Sherlock simply appeared in my brain, full blown and ready to kick butt. Well, not really, not until she'd killed her own private demons. So no, Sherlock Holmes wasn't the basis. However, in each book, when introduced, a character will usually make a comment, like 'Do you live at 221B Baker Street?'
EC: What do you want readers to get out of the book?
CC: I want readers to go nuts over the characters, relate to them, and root for them. Bottom line, I want to entertain the reader.  
EC: Can you give a heads up about your next book?
CC: The Lost Key is the second international thriller in the Nicholas Drummond, A BRIT in the FBI series. He could join the FBI because his mom is an American though he was raised in England. He was in the Foreign Service, then Scotland Yard, a Chief Detective Inspector, and now, finally, in the FBI. He's tough and smart, a computer genius, like Savich. Think of him as the son of James Bond. On his very first day on
the job at the New York Field office he and his partner Mike Caine check out a stabbing on Wall Street only to quickly discover there's a lot more going on here. They go to England, Scotland, and Paris, What fun!
EC: Is there anything else you would like to add?
CC:On November 8th, anyone who's within 150 miles of San Diego or wants great weather in sunny California must come to the USS Midway. I'll be there along with many other wonderful authors signing books to raise money to help veterans and their families. So come! The web site is http://www.militarybookfair.org/
THANK YOU!!