Tags
Related Posts
Share This
Q&A with Claire Kendal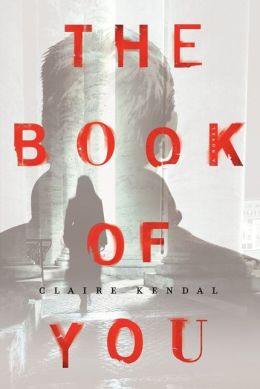 THE BOOK OF YOU by Claire Kendal is a terrifying psychological thriller that keeps the reader in extreme suspense. This debut novel is reminiscent of best selling author, Elizabeth Haynes', first book Into the Darkest Corner. Both have all too real stories of how a stalker attempts to take control of their victim's life, escalating to attempted murder.
Elise Cooper: Why did you decide to write this story?
Claire Kendal: I think it is a dark story about real things at its extreme worse. I thought long and hard about the violence and how much should be put in the book. I wanted to show that sometimes we are put in circumstances beyond our control. What happens to Clarissa can happen to any human being. All over the world this is still happening to women. As a novelist I felt a weight of responsibility to tell the story, engage the reader, and to be as true to the material as possible.
EC: Where did you get the idea of the book?
CK: I got the idea from news stories, and a story where a villainous libertine seduced innocent women. In that book society norms and her family gave her no means of escaping him. She had no recourse to get protection and have justice served.
EC: You refer to the Bluebeard Fairy Tale in this novel. A quote from the book, "Maybe wife number one did something even more unforgivable than going into the room. The worst form of disobedience: maybe she was unfaithful…" Can you explain why the fairy tale reference?
CK: I was very interested in the 'anti fairy-tale.' I thought about the alternative about how women might be terrified to have someone following them to the end of the earth? Most of those early fairy tales are very dark, have sexual violence toward women, and include sadism. What attracted these young women to these men? These fairy tales are much darker than the Disney stories.
EC: This book seems to be an advocate for abused women. Do you agree?
CK: Yes. Many times victims are degraded and humiliated. Some have even gone as far as to kill themselves after having been on the witness stand. Those cases I read about stuck with me. Our society makes it difficult and challenging for women to get the stalkers to stop.
EC: Can you describe your characters?
CK: I wanted all my heroes in this book to have some flaws. I call Clarissa 'my gal.' She behaved as rationally as she can. I consider her beautiful inside and out, intelligent, thoughtful, and brave. She is also embarrassed and ashamed regarding her past actions. Robert is an imperfect hero. I hope readers found him a direct contrast to Rafe. He is caring and empathetic. Rafe, the antagonist, is a plotter, manipulator, planner, and tries to isolate Clarissa. He cannot form proper relationships and every relationship becomes unattainable. He has the ability to fool people for a short amount of time.
EC: You have Rafe wearing a UCLA sweatshirt. As a Bruin I think his personality is more like a USC Trojan. Why include UCLA?
CK: I am quite fond of that campus. I wanted to tell that part of the story in that location and to make the school letters represent a clue. I do think UCLA is a beautiful campus. I visited it once and even went to the Sculpture Garden, which is a good setting since it can be so isolated.
EC: What do you want the reader to get out of the book?
CK: The moral and emotional complexity that the psychological thriller lets you delve into. Readers may not agree with every action Clarissa takes. I hope they will want to ask themselves what they would do in her place? Since this subject matter is so important there must be a trust issue between the readers and myself. They will be engaged and understand that even though this is a dark story there is still some hope and beauty within all that darkness.
EC: Can you give a heads up about your next book?
CK: It will be another psychological thriller where somebody will be put in very extreme circumstances. After that maybe another Clarissa story since I have already written a few chapters.
EC: Any particular current authors that influenced you?
CK: I love Michael Connelly and his Harry Bosch series. I think The Concrete Blond is a classic. I have read all the Harry Bosch and all the Mickey Haller books.
THANK YOU!!