Tags
Related Posts
Share This
Q&A with Elizabeth Haynes
Under A Silent Moon, Elizabeth Haynes' latest book, differs from her previous books.  While her other books were more stand-alone psychological thrillers this one can be classified as a series police procedural. What makes this novel intriguing is the way she presents the crime investigation, through the source documents. Intertwined throughout the novel is fictional source material, including police reports, phone messages, interviews, witness statements, emails, forensic reports analysis documents, and charts, which Louisa Smith, as the formidable DCI, uses in the course of heading the investigation of the two victims. This novel allows the reader to analyze much more as they are riveted to this gripping page-turner.
Elise Cooper: One of the team's investigating detectives, Sam Hollands, sounds very familiar. Is she from your first book, Into The Darkest Corner?
Elizabeth Haynes: Yes, Sam is returning from that book. She is the detective that helped rescue Catherine. I wrote a short story that is available here in England called Promises To Keep. It explains the gap in Sam's life from when she was an officer in London to now working in the countryside as part of Louisa's team.
EC: Will you ever bring Catherine back?
EH: Well I know Sam remained friends with Cathy and Stuart, the main characters of Into The Darkest Corner. Having Sam around allows for the potential to bring Cathy back. I would definitely have to include the fact that Cathy had strong feelings for others. As she saved and protected those close to her she drew strength and resiliency within herself. I do miss Cathy a lot. I look upon my characters as real people and am always intrigued and wonder what are they doing now. I could bring her back in a cameo appearance or as the main character of a future book.
EC: A lot of your female characters have unisex names. Why?
EH: I have a lot of androgynous names in this book. Sam, Ali, and Lou to name a few. I need to make it clear if they are men or women although after the first few chapters the reader has probably figured it out that they are women.
EC: How did you get the idea for the story?
EH: I saw a TV show that was on the air years and years ago. It was about real life cold cases where psychics determine what would happen to the victims and who was guilty. There was this episode based around someone that died and it was unsure if it was murder or suicide. I thought how intriguing it would be for someone to cover up a murder by making it look like a suicide.
EC: Although your plots are dark there is always a resolution for your readers?
EH: The darkest shadows work because the lightness is there with a resolution. We read crime fiction because at the end there is a satisfaction in knowing the how, why, and who. In many ways this is different than real life where we have planes disappearing and no explanation as to what happened.
EC: This is much more of a plot-based book than character based. Do you agree?
EH: I wonder if it is due to the fact that this book is a police procedural while the others were psychological thrillers. The detail of the crime is much more complicated with this latest novel. Maybe, if there were a simpler crime then I would be able to discuss more about the characters and their personal interactions. I wanted to make sure Lou is absolutely focused on solving the crime. Perhaps I need to find a way to write scenes of these police characters without distracting from the plot.
EC: Why did you put source documents into this book?
EH: This is the book I always wanted to write. As a police analyst I would get the real sense of the story, the real crime, from these documents. Investigators effectively piece together the puzzle as the investigation unfolds. I thought I could write a novel just from these documents with the reader being able to fill in the gaps and can see how the story unfolds. The reader could act like an investigator if they so chose.
EC: Your novels have graphic sex and violence. Why?
EH: In a crime novel there is a lot of graphic sex out there that is part of the crime. With Into The Darkest Corner the sex scenes were very real for me and not gratuitous. At times I wanted to stop writing that because I wasn't comfortable with it. It was stomach-churning for me and it gave the readers a feeling that this is just not right. With these current scenes I wanted to show that it was not put in for pleasure but how someone could use it to manipulate and control, as part of a power play. This is a thread running through all my books.
EC: Rumor has it you retired from your real life job as a police analyst. True?
EH: After finishing my career break in January I decided to resign. I am a full time author now. I still have some really good friends on the police force that I can consult with on how certain things will happen. Another bonus from writing is that I have not lost my contacts. I always get a senior police officer to check that I haven't given some classified information away. Also, my good friend Lisa is a major crime detective that checks to make sure my procedures are correct.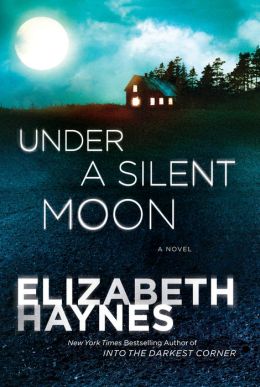 EC: As a working mother had do you balance professional life and motherhood?
EH: Well I want to say thank you for being kind enough to postpone for an hour this interview so I could have dinner with my ten-year-old son. Another example was when I was invited to speak at a crime festival on a Friday. I said I would do it but only on a Saturday or Sunday because that particular Friday was my son's class celebration for finishing primary school. Amazingly they allowed me to speak on the weekend so I was able to balance my career and my family.
EC: Can you give a head's up about your next book?
EH: Where Under A Silent Moon explored how a father/daughter relationship can go awry the next book will explore sibling rivalry. It's about sex trafficking when a fifteen-year-old girl, Scarlett, disappears a decade ago while vacationing on a Greek Island. Lou was the original detective on that case and not solving it was one of the biggest regrets of her career. Today Scarlett turns up in her hometown. In the next book Sam and Lou share the main roles. I like the idea for a strong female lead in the story. The storyline will explore more of Lou's personal life and will continue with the dark plot but there will be a lot less graphic sex.
THANK YOU!