Tags
Related Posts
Share This
Q&A with Melodie Johnson Howe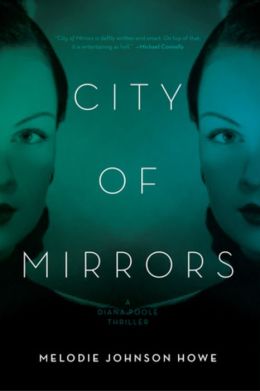 Melodie Johnson Howe's latest book, CITY OF MIRRORS, intertwines a murder mystery surrounded by the Hollywood mystique.  The reader gets a two in one, a fast paced thriller along with an understanding of what Hollywood is really like.  That is because Howe is a former actress who played roles in Love American Style and Clint Eastwood's Coogan's Bluff.  She decided the Hollywood scene was no longer what she desired and concentrated on her life long ambition of becoming a mystery writer. Recently, she was kind enough to answer some questions.
Elise Cooper: Since you were a Hollywood actress why did you decide to write mysteries?
Melodie Johnson Howe: I always liked reading crime novels. My husband told me to write what I love, mysteries. I decided to incorporate Hollywood because it is a mystery onto itself. I enjoyed writing about characters that lie, including to themselves. I decided to write a novel surrounding my short story character, Diana Poole. As a writer Raymond Chandler, Michael Connelly, and F. Scott Fitzgerald influenced me. Chandler and Connelly on how they wrote mysteries and Fitzgerald for his short stories about a screenwriter who is fired and is constantly looking for work.
EC: You have a number of themes in this book. Can you talk about the Hollywood theme?
MJH: I have a love hate with Hollywood. I have taken parts of my life and fictionalized it. It's filled with creative people, but on the other hand it's one of the toughest businesses you will ever find. I wanted to show what Hollywood is like from a working actress' point of view and not a Red Carpet actress. Because people in this business have giant egos it creates an atmosphere that has a lot of mayhem.
EC: What about the mother-daughter theme?
MJH: If you are a creative and driven person as my character Nora Poole was you find that there is a stronger need to be that red carpet actress than to be a loving mother. I think this happens a lot in Hollywood. I want to explore more, probably in the next book, how it is that Hollywood children have no sense of home. Throughout my novels I write about the mother-daughter relationship. Even though Diana was ill-treated she is attempting to respect her mother. Her relationship with her dead mother is something many readers can identify with, including the competition that can happen between a mother and daughter, and the different forms it can take.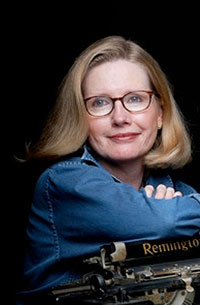 EC: Diana seems grounded. Was that your intention?
MJH: I wanted to make Diana's voice real and balance that off with involving her in that part of Hollywood. I wanted to show how these people live in a bubble and reflect the other bubbles that surround them. They are herded like sheep and are very cliquish. That is why in the dedication I put this quote in from Nora, 'If you want a friend in Hollywood, get a mirror.' It is a cut throat business. You have a very intimate relationship with people for a short period of time and then you don't see them again. It's all about getting work, gaining fame, and getting your name out there. There are the constant emotions of fear and anger. The fear is rejection that you will never get work. The anger comes from how you are assessed and treated. I had Diana elicit these emotions when trying to find a role and after she became endangered.
EC: The Heath character was very interesting. Are you going to explore his character more in future books?
MJH: Yes. I made Heath a former soldier. I wanted a man who had discipline and seriousness about him. Because his former job was a soldier who spied on other soldiers I thought he would have that ambivalence. Diana and Heath are a reflection of one another. They both have a love/hate relationship with Hollywood and have moved around so much of their lives. They have chemistry because they are both grounded, can see what Hollywood is really like, and will not allow themselves to be pulled in to the Hollywood lies.
EC: Can you give a heads up about your next book?
MJH: The working title is After The Fade. Diana witnesses a horrific auto accident where her world gets completely turned around. She has to solve the mystery as to why this woman ran into the street and how the Malibu rehab centers are involved. As with City of Mirrors she is once again forced into a situation. Of course Heath will be back and they will have an on/off again relationship. There will be the theme of how love is turned into betrayal, and why celebrities are so important to us.
THANK YOU!