Tags
Related Posts
Share This
Q&A with Phillip Margolin
WOMAN WITH A GUN has a receptionist, Stacey Kim, desiring to write a novel. A Pulitzer Prize winning photograph viewed at a New York Art Museum inspires her. Investigating the backstory of the photo she travels to Oregon. Here she finds that the photo of a woman on the beach, over looking the sea, holding a western style gun at her back, that becomes a part of the evidence in a Cold Case murder mystery.
Elise Cooper: Where did you find this photo?
Phillip Margolin: In Georgia. I was keynoting a writing conference. In a restaurant restroom over the toilet was the photograph seen on the cover of the book. I was blown away with the many possible scenarios that were running through my mind. Has the woman killed her husband on their wedding night? Is she going to commit suicide? Is she waiting for someone she plans to kill? I knew then I had the name of the book and the cover.
EC: Did you ever find out the real story behind the picture?
PM: Yeah. I asked the photographer, Leslie Jeter, because I was really curious. The story is not romantic and is actually bland. She was a commercial photographer at this wedding rehearsal. Everyone there were gun enthusiasts and had her take pictures, each one holding a different type of gun.
EC: In the story you have the gun as an antique, from the Wyatt Earp era of the OK Corral shooting. Please explain.
PM: I wanted to make the gun very valuable. I thought about the shooting of Wild Bill Hickok with the 'Dead Man's Hand,' and Wyatt Earp at the OK Corral. After doing some research I chose the latter. I thought the pistol in the photograph was an old western six-shooter. However, I sent it to a friend of mine, Steve Perry, who knows a lot about guns. He thought the gun was probably a modern weapon. I was disappointed but romanticism prevailed and so I decided my fictional weapon would be the one that Earp could have fought with in Tombstone.
EC: I thought the plot reminded me of the movie starring Jack Nicholson and Faye Dunaway, Chinatown. Am I correct?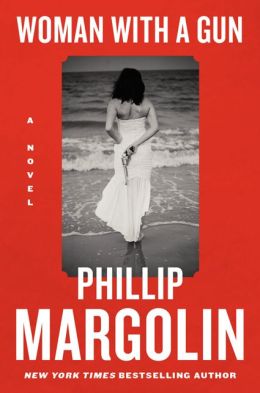 PM: I think the tone of the book became decidedly noir. I realized I was writing a story that could have been filmed in black and white in the 1940s starring Humphrey Bogart and Lauren Bacall as Jack and Kathy respectively.
EC: There is a lot about collectors in the story. Why?
PM: I am fascinated on how they think. My brother is a super collector of Sherlock Holmes. He has that gene, not me. I think he has the largest collection of Holmes artwork. The mindset seems to be that possessing the item is important. Unfortunately, there are people out there, of course not my brother, who hires someone to steal an item or buy it on the black market. I don't think they care if they can display it because for them the big incentive is that they own it and have something that no one else in the world can see.
EC: Would you ever write a true crime novel?
PM: I don't think so. I was involved in that for over twenty-five years as a defense attorney. My briefs were my true crime stories. Unlike real life when you write a novel you can make things up and have everything come out, as you want. I always joke I never lost a motion to suppress in any of my books.
EC: What would you like the reader to get out of Woman With A Gun?
PM: To have a good time. I want to set the reader up and keep the plot moving.
I read about three books a week, all different types, although, Agatha Christie is my guilty pleasure. When I read I desire to escape from the pressures. I want twists and turns and to be surprised by the ending.
EC: Can you give a heads up about your next book?
PM: The working title is The Mayfly, the fifth Amanda Jaffe novel. I introduced her in Wild Justice, which is about a father-daughter criminal defense team. In the book, The Associate, I needed a defense attorney. I was going to invent one but I liked Amanda so much I gave her a cameo role. I had no intention of writing a series character because I feared being tied to it. Obviously, I overcame that and now write many stand alones and occasionally a Jaffe book.
EC: So when you are not writing what are you doing?
PM: I am a pro football fanatic. Every Sunday I watch nine hours. I am hoping for a good, competitive game. I am a huge Oregon Ducks fan because watching them is so exciting. Once the Philadelphia Eagles hired Chip Kelly I became a fan.
THANK YOU!!