Tags
Related Posts
Share This
RATLINES by Stuart Neville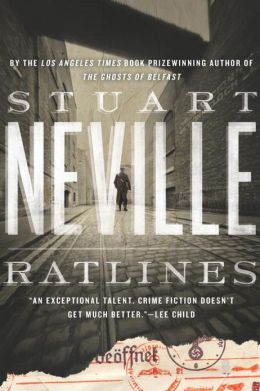 Soho Crime
Pub date: Jan 1st, 2013
As an American male, who came of age in the late1980's/early 1990's (and who happens to be Jewish), Ratlines accomplishes the admiral feat of building an emotional bond between the reader and Ireland of 1963. Stuart Neville skillfully recreates a Dublin that I was completely unaware of. In this work of historical fiction, we find a murderer working his way along a very specific list.
The men on this list of victims were all Nazi collaborators now living in peace in post-war Ireland. As if this situation wasn't bad enough, President John F. Kennedy is soon to arrive on his first ever visit to his ancestral homeland. Needing to solve this string of murders as quickly, and as quietly as possible, Lieutenant Albert Ryan is brought in by the Minister of Justice to get to the bottom of the case.
The character of Ryan is where Neville has let his skills as an author shine. Ryan is a man who has always felt more comfortable in an army barracks than his own home. A man who knows full well he doesn't have the skills to make it in the civilian world. But just because he is suited to military life doesn't mean he doesn't have the skills to think out a problem for himself.
Due to Ireland's neutrality during World War II, or The Emergency as the Irish called it, Ryan left home at a young age and joined up with the British to fight against the Axis powers. His joining up with the British has caused nothing but shame and pain for his family, but he knew it was the right thing for him to do. This builds the basis of strong moral character: Ryan will always do the right thing.
The trail that Ryan follows leads him to the doorstep of Otto Skorzeny, an Austrian who was a high-ranking officer in the Nazi army. Skorzeny has purchased an estate in Ireland, and has become something of a local celebrity, spending much time in the company of Irish officials, like the Minister of Justice.
As Ryan picks apart the web that has drawn this group of Nazi collaborators out of Europe and led them to Spain, South America, and then to Ireland, he finds himself on a collision course with Skorzeny. Skorzeny sits at the center of a worldwide network, but what is his true goal? And who, or what, is responsible for the murders of the Nazi collaborators? And is there more going on then just a plain case of killing out of revenge from the War?
Neville lays out all of these moving parts in skillfully written prose that instantly pulls the reader into the world of 1963. With gentle reminders of the era sprinkled throughout the novel, like Ryan taking his date to see the "new" James Bond thriller Dr. No, the story is firmly rooted in a very specific point in history, not just "post World War II." As an American unfamiliar with this period of Irish history, being able to share in Ryan's disgust with his government's harboring of the Nazi collaborators made the reading experience almost interactive. Ratlines succeeds on so many fronts. An extremely well thought out murder mystery relentlessly pursued by a very human protagonist, all set in a world "I thought I knew, but didn't."
As you can tell, I loved every page of this book. And I even ended up learning a thing or two. Doesn't get much better than that.