Tags
Related Posts
Share This
Reed Coleman: The THE DEVIL WINS Interview
Two books ago, The Devil Wins, Jesse struggled to capture Mr. Peepers who eventually escaped. Now, after a major crime boss is murdered, Jesse suspects it's the work of Mr. Peepers, a psychotic assassin who has threatened to avenge Jesse's broken promise by targeting those close to the Chief, particularly his ex-wife Jenn, deputy Molly, deputy Suitcase Simpson and his current girlfriend Diana.
Elise Cooper: What's in store for the quick-thinking, hard-working police chief?
Reed Coleman: There will be major changes a foot. Although Jesse will not leave Paradise he will move into town; will make a serious attempt at sobriety; and people will be coming into his life from unexpected ways and in unexpected places.
EC: How do you think fans will react?
RC: I hope they understand that characters have to change so the stories are not always the same. What makes Jesse attractive is not his alcoholism, but his struggles with it. Whether he is drinking or not it is a struggle for him. It will be a matter of how the plot is executed.
EC: How will the estate react?
RC: By this book I know what the estate will accept on where I can and cannot go. Since my editor is the same one Robert Parker used I can consult her as well as the author Ace Atkins who writes the Spenser universe.
EC: How would you describe the creepy Mr. Peepers character?
RC: A sadist, control freak, part serial killer, and part hit man, but also a little human because he has great affection for Jenn. I think he is creepy like Hannibal Lechter. They are both bright, very controlling, one step ahead of most people, condescending, a feeling of superiority, and has affection for a particular person. I think anyone who writes a mystery with a serial killer has some influence of the Hannibal character. I think I was influenced unconsciously, but not consciously.
EC: That scene in the barbeque restaurant was pretty interesting. What influenced you about it?
RC: A line from the band The Talking Head's song, 'Psycho Killer.' The specific lyrics, 'We are vain and we are blind. I hate people when they're not polite.'
EC: It seems the theme of the book is that people should think about their actions towards others. Agree?
RC: Yes, that is my point. We encounter that in our everyday life. Readers did not want the rude person in the story to be tortured. Yet, we have all thought someone rude and wish they would get their due. Someone who says, 'F— You' even though they did the rude act. Its crazy. I want people to think that they should not be rude to someone else because you never know if that person will take out a gun and shoot you.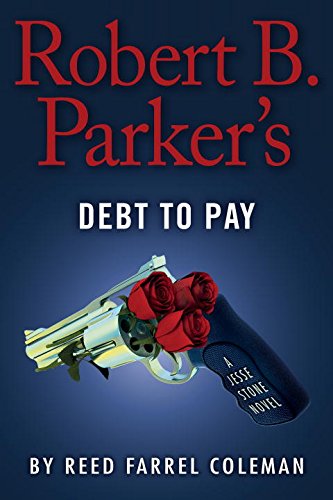 EC: The female characters play an important role in this book. Can you compare Jenn and Diana, the former FBI agent, who is now Jesse's girlfriend?
RC: I think Jesse and Diana are soul mates, much more than Jenn ever was. Both women are beautiful, blond, and blue eyed. Diana is more self fulfilled and does not need anyone to complete her. Could you imagine Jenn jumping out of a car and chasing a mugger as Diana did in this book? Jenn would have told Jesse to do it.
EC: You have Jenn going to get married. Why?
RC: In some ways this is closure for Jesse where she is concerned. One of the things fans of the series have asked me is to kill Jenn off. I found their relationship as annoying as the fans. I hope in this book I rehabilitated her. Jesse is a guy who needed to fix things and Jenn needed the help in getting things fixed. Jesse knew she was manipulative, but with Jenn's new husband she does not seem so whiny or needy.
EC: What about Elena, deputy Suitcase's girlfriend?
RC: She will be a part of the series. Sometimes she will play more of a major role than other times.
EC: What about deputy Molly?
RC: Jesse is old fashioned. Since Molly has a family he does not want to put her in harm's way. He likes having her around him so for the most part she will be at the desk and maybe occasionally go on patrol.
EC: What about the new deputy Alisha?
RC: In the fifth Jesse Stone novel she will play an important role professionally. I want readers to understand I did not throw her into the stories because she is black. She is there for a reason. The reason I expanded the characters is to have more opportunities to write their backstories in future books. Bob wrote nine books without adding many characters. By adding casts of characters the plot can get wider.
EC: Can you tell us about your next book projects?
RC: The next Jesse Stone title is The Hangman's Sonnett. The plot revolves around the resurfacing of a lost recording of a famous musician that was stolen years earlier. The decisions Jesse made in Debt To Pay will have resonance in his career down the road. The next Gus Murphy book, What You Break, will be out in February. Its theme is comparing what you would do to someone close to you if you find out they did something horrible. You don't know what people are capable of. Why would you react this way to someone you care about who does something horrible and not react the same way to a stranger?
THANK YOU!!