Tags
Related Posts
Share This
REMAINS OF INNOCENCE by J.A. Jance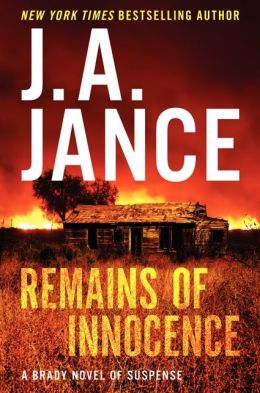 REMAINS OF INNOCENCE
Harpercollings
July 22, 2014
Remains Of Innocence has J. A. Jance once again writing a great storyline. Before starting this book readers might want to download the novella, The Old Blue Line, that offers a backstory on Joanna Brady's husband Butch Dixon. Both involve murder mysteries that are very suspenseful.
The Old Blue Line has Butch being a person of interest when his ex-wife is found murdered. It also explains how the relationship between Joanna and Butch began. What makes the story even more interesting is Jance's incorporation of technology into the plot. She shows the positives, helping the police find a killer, and the negatives, showing how computers are basically open books for anyone who cares to find out information about someone. This novella is also a shout out to seniors since many of the characters are retirees or at least have their AARP card.
Remains Of Innocence also continues with the senior character theme, showing the importance that age group contributes to society. The plot has two stories going at once, which in many ways are only slightly connected. Arizona Cochise County Sheriff Joanna Brady is working on two perplexing cases. The first case has a mentally disabled man found dead at the bottom of a glory hole along with a puppy and kitten that were brutally mutilated. Brady struggles to come to terms with an apparent serial killer in the small town of Bisbee, Arizona since it appears someone is going on a killing spree of animals and humans.
The other case involves the murder of the county's medical examiner. Brady ties that into a case that takes place clear across the US. An old woman, a hoarder, has died in Great Barrington Massachusetts. After her daughter, Liza Machett, discovers a fortune in hundred dollar bills hidden in the tall stacks of books and magazines she is threatened and her friends are killed. Trying to escape her pursuers she travels to Bisbee, Arizona with the help of an abused woman's underground railroad. Although each case takes a turn of its own, these two sub-plots are compelling and gripping throughout the book.
As in all Jance books besides a riveting plot she includes issues that the reader can learn about. This book discusses the training of a deaf dog that learns to recognize hand signals and the dangers abused women must endure. In all Brady books there is always a slight reference to how professional women must operate in a predominately man's field.
Remains of Innocence has a realistic plot, wonderful relatable characters, and believable scenes. It is a first rate murder mystery that also delves into the family life of its characters.
Elise Cooper