Tags
Related Posts
Share This
Republic of Doyle: Season Two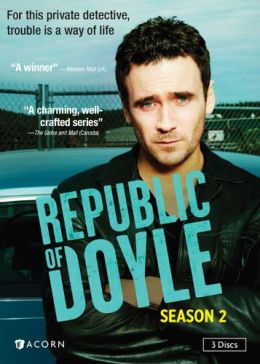 Republic of Doyle: Season Two
Acorn Media
Release date: October 14th, 2014
Starring: Allan Hawco, Sean McGinley, Linda Boyd, Krystin Pellerin, Mark O'Brien, Marthe Bernard
I have to thank Acorn Media for bringing REPUBLIC OF DOYLE to my attention. While I keep my eyes on British TV for promising shows, I tend to forget that Canada also produces some fine programs. I shouldn't, seeing as I was a big fan of DA VINCI'S INQUEST and the short-lived INTELLIGENCE.
While not as serious as those two shows, ROD delivers some enjoyable P.I. tales that mix drama with a sense of wry humor that reminds me of THE ROCKFORD FILES. The series is set, and shot, in St. John's, Newfoundland and Labrador. The fact that it is shot there is a real asset to the show, as the setting truly acts as a character, giving it a sort of timeless feel. While there are cell phones and computers, it has a vibe that makes me think of '70s California, think STREETS OF SAN FRANCISCO and the aforementioned ROCKFORD FILES. It has that kind of look and feel.
The show features the Jake (Hawco) and Malachy (Sean) Doyle, a father/son pair of former cops that now run a private investigation firm. While both were cops, they could not be more different, Malachy was a well-respected career cop, but Jake was a hard-headed and his issues with authority cut short what had the potential to be a stellar career. As one would imagine, these two opposites often butt heads both in work and in real life. Jake tends to enjoy ladies and the occasional drink, acting just shy of full adulthood. Malachy dislikes his son's lifestyle and harps on him to grow up and show some responsibility. The result is banter that goes beyond witty and has the kind of bite that may remind viewers of arguments in their own family (there are things that family members can get away with saying that others cannot).
Also on board are Rose Miller, Malachy's second wife, niece/grandaughter Tinny and graffitti artist turned aspiring P.I. Des, all of whom assist on cases and make up the Doyle extended family. On the outside is Det Leslie Bennett, an officer who often finds herself crossing paths with the Doyles, especially Jake. Almost from the start, it is clear that the two are destined to be together…just not yet.
I find REPUBLIC OF DOYLE immensly entertaining. Hawco, also a writer and producer of the show, is charming but not without some noticable flaws. As I said, the banter gets mean at times, much like it does in most real families, but the Doyles can always count on one another to watch their back. I highly recomend the show to anyone looking for a mild crime drama with a dollop of humor.