Tags
Related Posts
Share This
Rhys Bowen: The TIME OF FOG AND FIRE Interview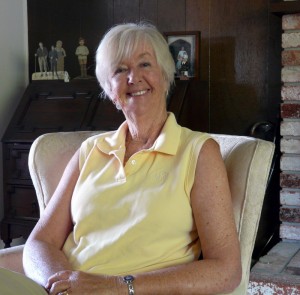 TIME OF FOG AND FIRE by Rhys Bowen is a mystery that blends crime suspense within a very potent historical setting. By using historical events and people in her books the plots become both believable and relatable. In this novel the 1906 San Francisco earthquake almost becomes a secondary character, where it is featured prominently. This book gives a flavor for what it is like to be an Irish American, how corruptness was widespread, the ability to travel across country, and the effect of natural disasters upon the population. Intertwined within that is a crime that must be solved.
Elise Cooper: You blend a lot of historical significance into your plots. Please explain.
Rhys Bowen: When I write a story I always look at what has happened during that time period. For example, this book takes place in 1906. When I write about that era I don't want to tell people about it, but want to take people to 1906. I consider myself a tour guide that has people feeling what is happening as well as being told what it was like.
EC: Danny and Molly seem to have a partnership?
RB: It started off sixteen books ago with the Irish American experience. I am married to a man who is half Irish, and I am Welsh so I know about Kilts. Molly came to Ellis Island after accidentally killing the landowner's son while he was raping her. Knowing she would get no justice in Ireland she flees to America. After a time she meets Danny who is a good man. No married woman could work back then as it reflected on her husband; since the appearance was that a husband could not support his wife. Danny was the exception, accepting Molly's skills.
EC: Does Molly always speak her mind?
RB: I used to write a story of a Welsh policeman, but he annoyed me because he was too polite. I wanted to write about someone who is not always so polite and would let her mouth get the better of her. That is why I put in the scene between Molly and General Funston when she calls him out for not investigating a dead body.
EC: Readers learn a lot about the 1906 earthquake, what struck you about that disaster?
RB: When I was doing the research I found there to be so many first hand accounts. The one that struck me the most was the army's instruction to shoot looters on site. Here you had so many people escape from the earthquake only to be shot as they tried to retrieve some valuable heirloom of theirs. I was also touched by the fact that those who were there had no way of getting in touch with anybody. There were families disrupted. This was one of the reasons I put in the scenes of Molly and Daniel's young son, Liam, disappearing.
EC: Have you experienced an earthquake?
RB: I can tell you that having lived just North of San Francisco for forty years I am quite conscious of the catastrophic event, which is why I wanted Molly to be in that environment. I was there in 1989. I remember my husband telling me about his experience at Candlestick Park during the World Series. He said he actually saw parts of the stadium open and close down again. All of the traffic lights were out and there were fires burning. It was very stressful.
EC: You go into a lot of detail about train travel. People don't do it that much these days-did you travel a lot by train?
RB: I think the older generation has experienced a lot more than the young. I did do a lot of travel as a child. When I was twelve I was put on a train in London and traveled to Vienna by myself. On a train there is always an interesting mix of people. You feel like you are in a little capsule, apart from the real world, viewing it from the outside. What I wanted to show is how very difficult it was to get from New York to California, especially with a young child. It took four days, which is a very long trip.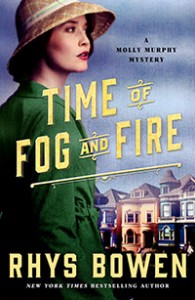 EC: You also show how women right's evolved with the quote, "What husband can tolerate a wife who has a successful career.' Please explain.
RB: I want Molly to be a role model, which is why I put in the book quote, 'Showing young women that a woman can hold their own in a man's world. Not only hold her own, but succeed.' I like to bring in a few real characters to cement readers to the times. In this book, Mark Twain did live close by Molly and Daniel, and some of the speeches he made championed a woman's right to vote. I talk about women suffrage in many of the books, explaining that some women hurled insults at those supporting the women vote. Through my research I found that western states gave women the right to vote in state elections. It seems western women were supposed to be tough, while eastern women looked and many times acted as fragile little flowers.
EC: Is Molly based upon anyone?
RB: People have asked me how Molly could be a woman private detective during those times. But there was actually a female NYPD police detective. Also, Molly is encouraged by Nellie Bly. I put in the book, how Nellie fired up young women when she showed them what one woman can achieve. She was a real-life investigative reporter who did amazing things including having herself committed to an insane asylum so she could write about the conditions, being the only woman reporter on the front lines in the First World War, and probing too far in the Mexican elections so she had to be whisked away. I think Molly has her attitude of putting herself in danger and will not back away.
EC: What about the characters, Sid and Gus. Are they Lesbians?
RB: Yes. Can you believe that when I wrote them in some fans actually told me they would no longer read my books? I wanted to show them as part of the new Bohemian culture in Greenwich Village. They are able to thumb their noses at society because of their wealth. They are kind, fun, and act as big sisters to Molly. They have their own rules. I think Sid and Gus are the sort of people I would like to be friends with.
EC: Can you give a heads up about your next books?
RB: The next Molly book, currently titled, THE GHOST OF CHRISTMAS PAST, is about a child vanishing in the snow and is never found. It will be out in November 2017. Before that I will have a book out from the Royal Spyness series. It is lighter and has as the main character a completely penniless aristocrat in the 1930s. It is a fun social satire on the class system in England during those times.
Thank You!!