Tags
Related Posts
Share This
Richard Compton is featured in this week's Giveaway.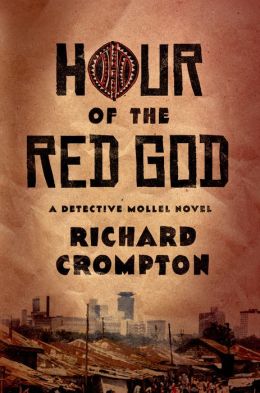 Happy Friday! . Crimespree magazine,  in conjunction with Friday Reads Facebook page,  is giving away copies of Richard Crompton's HOUR OF THE RED GOD
HOUR OF THE RED GOD by Richard Compton
In the grit of contemporary Nairobi, a bedeviled detective pursues an unusual killer
In Nairobi's Uhuru Park, the police have recovered the body of a local prostitute: a Maasai woman, brutally murdered. It's hard to discern what went wrong. Was this a female circumcision gone awry? Was she the victim of a pimp, or maybe of one of her customers?
Detective Mollel, himself a former Maasai warrior, is assigned to the case. Like all great heroes in crime fiction, Mollel is complicated, even flawed. His scars and stretched earlobes, the hallmarks of the Maasai, make him conspicuous on the streets of corrupt contemporary Nairobi. Worse still, he can't seem to leave well enough alone, no matter what the consequences.
As Mollel pursues the death of the prostitute, he begins to suspect something far more extensive than an ordinary murder. But are his warrior's instincts—which have never failed him—as true as they feel? Or will all his convictions about the case be turned on their head? As the investigation devolves into chaos, the outcome becomes more personal than he could ever have imagined.
With the sophistication of Ian Rankin and Colin Harrison, and set against the backdrop of Kenya's turbulent 2007 elections, Richard Crompton's Hour of the Red God brings Nairobi and its citizens vividly to life: gritty and modern, with an extraordinary blend of tribal and urban elements. In this dark thriller, tradition and power collide to a shocking, unforgettable end.
Richard Crompton's Hour of the Red God is a dark, thrilling, and vividly imagined mystery, with a hero as complex as the city itself.
Author, journalist, father of three, Richard Crompton comes from London but has lived in Kenya since 2007. His debut novel, The Honey Guide, was published in the UK in February 2013, and was released in the U.S., Hour of the Red God, in April.
To be entered in the drawing shoot an email over to Jon?@crimespreemag.com (remove the question mark) And put CONTEST in the subject line. Also please put your address in the body of the email
We will pick the winners on August 16th.
When we do the drawing we will be sending an extra something for one lucky winner to be picked from the comments section of the Friday Reads face book page, so after you enter, go leave a comment!