Tags
Related Posts
Share This
Richard Kadrey: Dates for THE GETAWAY GOD tour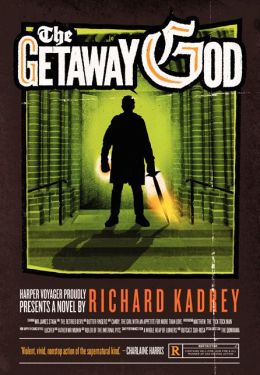 THE GATEWAY GOD, Richard Kadrey's latest Sandman Slim novel hits stores on August 26th.
End times are here again
A half-human, half-angel with a bad rep and a worse attitude—we are talking abuout the former Lucifer here—James Stark, aka Sandman Slim, has made a few enemies. None, though, are as fearsome as the vindictive Angra Om Ya—the insatiable, destructive old gods. But their imminent invasion is just one of Stark's problems, as L.A. descends into chaos, and a new evil stalks the city.
No ordinary killer, the man known as St. Nick takes Stark deep into a conspiracy that stretches from Earth to Heaven and Hell. Further complicating matters is that he may be the only person alive who knows how to keep the world from going extinct. He's also Stark's worst enemy—the only man in existence Stark would enjoy killing twice—and one with a direct line to the voracious, ancient gods.
Richard will be hitting 5 states over the course of a month. Take a gander and see if he will be near you. If not, contact one of these stores to secure a signed copy.
Thursday, August 28, 2014
BOOKS INC.
7:00 PM
301 Castro St, Mountain View, CA 94041
Friday, September 12, 2014
MURDER BY THE BOOK
7:00 PM
2342 Bissonnet St, Houston, TX 77005
Thursday, September 25, 2014
POWELL'S BOOKS
7:00 PM
Book Event & Signing w/ Kim Harrison
3415 SW Cedar Hills Blvd., Beaverton, OR 97005
Friday, September 26, 2014
TATTERED COVER BOOK STORE
7:00 PM
Book Event & Signing w/ Kim Harrison
9315 Dorchester St., Highlands Ranch, CO 80129
Saturday, September 27, 2014
COPPERFIELD'S BOOKS
7:00 PM
"Brave New World" Event series w/ Kim Harrison
140 Kentucky St., Petaluma, CA. 94952
Monday, September 29, 2014
POISONED PEN PHOENIX STORE
7:00 PM
Book Event & Signing w/ Kim Harrison
4014 N Goldwater, Scottsdale, AZ 85251
If you have not encountered Sandman Slim, I suggest you do so. Kadrey combines fantasy with the most delightful elements of the hard-boiled genre.