Tags
Related Posts
Share This
RIZZOLI & ISLES: Third Season release pushed back to June.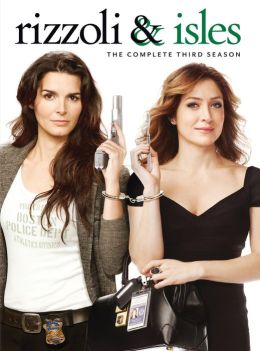 Warner Home Entertainment has pushed back the DVD release of RIZZOLI & ISLES: THE COMPLETE THIRD SEASON from May 14th to June 11th.
Based on the best-selling crime thriller books by Tess Gerritsen and developed by writer and former crime reporter Janet Tamaro (Bones, Lost), Rizzoli & Isles stars Angie Harmon as Boston detective Jane Rizzoli, and Sasha Alexander as medical examiner Maura Isles. Together they are close friends and complete opposites who solve some of Boston's most notorious crimes. In season three, Jane and Maura must set aside their personal difficulties in order to keep on top of the city's most heinous murder cases. Yet analyzing corpses and tracking killers is child's play compared to the complications that arise from both friends' respective parental units: Angela falls for Jane's boss, Maura meets her biological mother, and Jane's infant nephew is the son of either her brother…or her father! Using intellect and instinct, the best friends do what it takes to regain each other's trust — after all, the season starts when Jane has just shot Maura's biological father — while they bust criminals.
Extras:
Case Closed: Crafting The Shifting Worlds Of Rizzoli & Isles (Featurette)
Family Matters (Series of mini-featurettes)
Personnel Files
Unaired Scenes
Gag Reel
SRP is $39.99