Tags
Related Posts
Share This
Rollins, Cantrell, Conn and Gross are featured in this week's giveaway
Crimespree magazine,  in conjunction with Friday Reads Facebook page,  is offering you a chance to win  copies of THE EYE OF GOD by James Rollins, THE BLOOD GOSPEL by James Rollins and Rebecca Cantrell, O, AFRICA! by Andrew Lewis Conn and EVERYTHING TO LOSE by Andrew Gross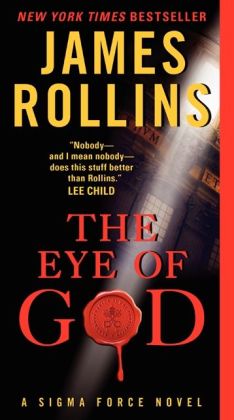 THE EYE OF GOD by James Rollins
In a masterwork of historical mystery and scientific exploration, New York Times bestselling author James Rollins reveals an apocalyptic vision of the day after tomorrow, of a future predicted by the distant past, of a world doomed to burn, that moves from contemporary America to Asia and the Vatican-and more than two millennia back into humanity's history
The crash of a U.S. military research satellite in the remote wilds of Mongolia and China triggers an explosive search for the valuable cargo it holds: a code-black physics project connected to the study of dark energy, the energy connected to the birth of our universe. But the last blurry image from the falling satellite captures a chilling sight: a frightening view of a smoldering eastern seaboard of the United States in utter ruin.
At the Vatican, a mysterious package arrives for the head of Pontifical ancient studies, sent by a colleague who had vanished a decade earlier. It contains two strange artifacts: a skull scrawled with ancient Aramaic and a tome bound in human skin. DNA testing reveals both are from Genghis Khan-the long-dead Mongol king whose lost tomb is rumored to hold the vast treasures and knowledge of a lost ancient empire.
Commander Gray Pierce, and Sigma-joined by a pair of Vatican historians-race to uncover a truth tied to the fall of the Roman Empire, to a mystery bound in the roots of Christianity's origins, and to a weapon hidden for centuries that holds the fate of humanity.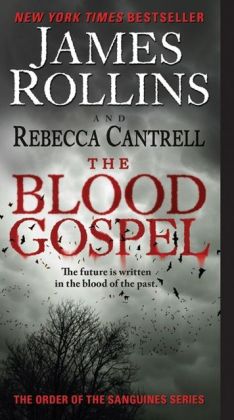 THE BLOOD GOSPEL by James Rollins and Rebecca Cantrell
In his first-ever collaboration, New York Times bestselling author James Rollins combines his skill for cutting-edge science and historical mystery with award-winning novelist Rebecca Cantrell's talent for haunting suspense and sensual atmosphere in a gothic tale about an ancient order and the hunt for a miraculous book known only as . . . The Blood Gospel
An earthquake in Masada, Israel, kills hundreds and reveals a tomb buried in the heart of the mountain. A trio of investigators-Sergeant Jordan Stone, a military forensic expert; Father Rhun Korza, a Vatican priest; and Dr. Erin Granger, a brilliant but disillusioned archaeologist-are sent to explore the macabre discovery, a subterranean temple holding the crucified body of a mummified girl.
But a brutal attack at the site sets the three on the run, thrusting them into a race to recover what was once preserved in the tomb's sarcophagus: a book rumored to have been written by Christ's own hand, a tome that is said to hold the secrets to His divinity. The enemy who hounds them is like no other, a force of ancient evil directed by a leader of impossible ambitions and incalculable cunning.
From crumbling tombs to splendorous churches, Erin and her two companions must confront a past that traces back thousands of years, to a time when ungodly beasts hunted the dark spaces of the world, to a moment in history when Christ made a miraculous offer, a pact of salvation for those who were damned for eternity.
Here is a novel that is explosive in its revelation of a secret history. Why do Catholic priests wear pectoral crosses? Why are they sworn to celibacy? Why do the monks hide their countenances under hoods? And why does Catholicism insist that the consecration of wine during Mass results in its transformation to Christ's own blood? The answers to all go back to a secret sect within the Vatican, one whispered as rumor but whose very existence was painted for all to see by Rembrandt himself, a shadowy order known simply as the Sanguines.
In the end, be warned: some books should never be found, never opened-until now.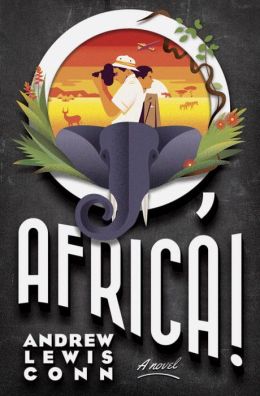 O, AFRICA! by Andrew Lewis Conn
A bold, ambitious and ultimately moving novel about two brothers, forbidden love, and the timeless allure of the movies
O, Africa!, a spirited and stylish novel set in the early days of filmmaking in the 1920s, follows twin brothers Micah and Izzy Grand, the sons of Jewish immigrants to New York who have made their name producing slapstick comedies. When Micah finds himself in trouble with a group of Harlem gangsters, the brothers' opportunity to shoot the first movie on the African continent arrives at just the right time. Together with an unlikely band of producers, stars, and hangers-on, they set out for Malwiki, where they will each discover unforeseen truths about themselves, their lovers, and their future in the movies.
Back in the U.S., Micah and Izzy must adapt to a glittering and dangerous world that is suddenly unfamiliar to them, and find the audience that their new film deserves, while hoping to preserve the loyalty between them that was severely tested in Africa.
While confronting the serious prejudices of the early 20th century that prevented people from being with those they loved, Andrew Conn also offers a spirited and stylish adventure story, moving from Coney Island to England to Malwiki to glitzy Hollywood.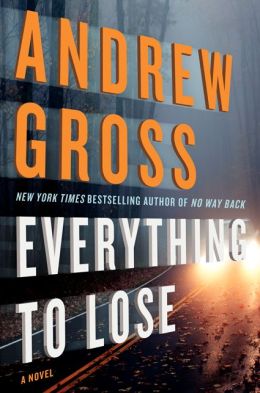 EVERYTHING TO LOSE by Andrew Gross
An ordinary woman becomes entangled in a dangerous conspiracy of greed and murder in this blistering thriller, set during the tragic, chaotic days of Hurricane Sandy, from Andrew Gross, the New York Times bestselling author of 15 Seconds and No Way Back
While driving along a country road, Hilary Blum witnesses a horrible accident. A car ahead of her careens down a hill and slams into a tree. Stopping to help, she discovers a dead driver—and a satchel stuffed with $100 bills.
Divorced, with a deadbeat ex and a child with Asperger's, Hilary just lost her job. That money could prevent her family's ruin and provide for her son's special needs. In an instant, this honest, hardworking woman who has always done the responsible thing makes a difficult choice. It is a decision that will unleash a whirlwind of dark consequences and plunge her into unexpected danger—into the heart of a terrifying scheme involving a twenty-year-old murder and a powerful figure with a terrifying secret.
Suddenly, with time running out and everything to lose, Hilary must find a way to protect her child and bring down an ambitious enemy who will stop at nothing to destroy her.

To be entered in the drawing shoot an email over to Jon?@crimespreemag.com (remove the question mark) And put CONTEST in the subject line. Also please put your address in the body of the email.
We will pick the winners on June 27th.
When we do the drawing we will be sending an extra something