Tags
Related Posts
Share This
Safe from Harm by Stephanie Jaye Evans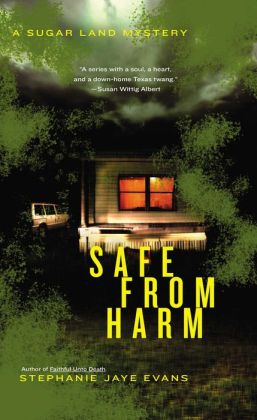 Berkley Prime Crime
Pub Date: March 5, 2013
When Bear Wells and his wife comply with their daughter Jo's texted request – a simple, two-word message imploring them to "come home" – they don't expect to find her alone in their darkened house, cradling the dead body of her estranged friend Phoebe.
To hear Jo tell it, she arrived home to find the lifeless girl on the floor of her bedroom. But as devastated as Jo is, she doesn't seem to be telling her parents – or the police – the whole truth. Phoebe didn't leave a note, and at any rate, suicide wasn't her style. But if Phoebe didn't kill herself, who did kill her – and why? And how did she end up dead inside the Wells' locked and empty abode?
Elegantly plotted and exquisitely written, Safe From Harm is the second in Stephanie Jaye Evans' Sugar Land Mystery series. It's the first thing by Evans that I've read, but the prologue alone was enough to earn her a spot on my list of must-read authors. Safe From Harm is a devastating tale of jealousy, greed, vengeance, and betrayal, and the havoc these sins can wreak when they're unleashed on an unsuspecting suburban town.
Evans' character work is nothing short of fabulous. There's not a single wasted word or detail to be found; actions, attire, dialogue – all are designed to develop and inform. And while this book has some truly brutal moments, there's also a lot of humor and heart to be found, as well, together with some shockingly insightful discussions about faith.
Evans' crowning achievement, though, may be the way she chose to structure her tale. Safe From Harm is similar to Donna Tartt's The Secret History in that the first two-thirds or so are essentially a murder mystery told in reverse. Unlike The Secret History, though, when you start Safe From Harm, you're not at all sure how Phoebe's seemingly obvious suicide could possibly be a murder. You know how the story ends (or, at least, you think you do) – how everything ultimately comes crashing down; the only mystery in the mind of the reader is what brought Evans' characters to this awful moment.
But then, over the course of the tale, little inconsistencies are revealed. Things that make you question everything you thought you knew about Phoebe's death. Maybe they're nothing. Or just maybe they add up to something truly terrible…
Katrina Niidas Holm