Tags
Related Posts
Share This
Sansom, Strauss and Swierczynski are featured in this week's giveaway
Crimespree magazine, in conjunction with Friday Reads Facebook page, is offering you a chance to win copies of LAMENTATION by CJ Sansom ,  THE DEATH OF CAESAR by Barry Strauss, and CANARY by Duane Swierczynski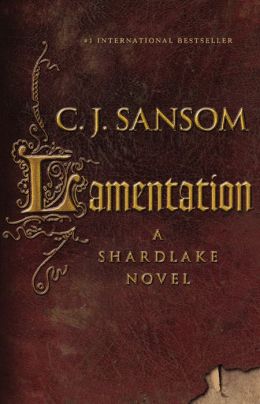 LAMENTATION by CJ Sansom
As Henry VIII lies on his deathbed, an incendiary manuscript threatens to tear his court apart.
Summer, 1546. King Henry VIII is slowly, painfully dying. His Protestant and Catholic councilors are engaged in a final and decisive power struggle; whoever wins will control the government. As heretics are hunted across London, and radical Protestants are burned at the stake, the Catholic party focuses its attack on Henry's sixth wife–and Matthew Shardlake's old mentor–Queen Catherine Parr.
Shardlake, still haunted by his narrow escape from death the year before, steps into action when the beleaguered and desperate Queen summons him to Whitehall Palace to help her recover a dangerous manuscript. The Queen has authored a confessional book, Lamentation of a Sinner, so radically Protestant that if it came to the King's attention it could bring both her and her sympathizers crashing down. Although the secret book was kept hidden inside a locked chest in the Queen's private chamber, it has inexplicably vanished. Only one page has been recovered–clutched in the hand of a murdered London printer.
Shardlake's investigations take him on a trail that begins among the backstreet printshops of London, but leads him and his trusty assistant Jack Barak into the dark and labyrinthine world of court politics, a world Shardlake swore never to enter again. In this crucible of power and ambition, Protestant friends can be as dangerous as Catholic enemies, and those with shifting allegiances can be the most dangerous of all.
About the author:
C. J. Sansom was educated at Birmingham University, where he took a BA and then a Ph.D. in history. After working in a variety of jobs, he retrained as a solicitor and practised in Sussex, until becoming a full-time writer.
His works include C. J. Sansom has written five novels in his acclaimed historical crime series, featuring lawyer, Matthew Shardlake, DISSOLUTION, DARK FIRE, SOVEREIGN, REVELATION and HEARTSTONE, as well as WINTER IN MADRID and DOMINION.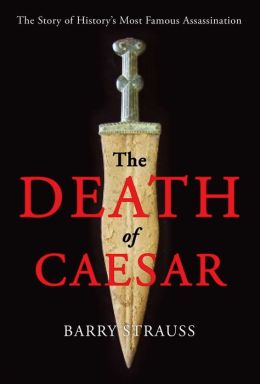 THE DEATH OF CAESAR by Barry Stauss
The exciting, dramatic story of one of history's most famous events—the death of Julius Caesar—now placed in full context of Rome's civil wars by eminent historian Barry Strauss.
Thanks to William Shakespeare, the death of Julius Caesar is the most famous assassination in history. But what actually happened on March 15, 44 BC is even more gripping than Shakespeare's play. In this thrilling new book, Barry Strauss tells the real story.
Shakespeare shows Caesar's assassination to be an amateur and idealistic affair. The real killing, however, was a carefully planned paramilitary operation, a generals' plot, put together by Caesar's disaffected officers and designed with precision. There were even gladiators on hand to protect the assassins from vengeance by Caesar's friends. Brutus and Cassius were indeed key players, as Shakespeare has it, but they had the help of a third man—Decimus. He was the mole in Caesar's entourage, one of Caesar's leading generals, and a lifelong friend. It was he, not Brutus, who truly betrayed Caesar.
Caesar's assassins saw him as a military dictator who wanted to be king. He threatened a permanent change in the Roman way of life and in the power of senators. The assassins rallied support among the common people, but they underestimated Caesar's soldiers, who flooded Rome. The assassins were vanquished; their beloved Republic became the Roman Empire.
An original, fresh perspective on an event that seems well known, Barry Strauss's book sheds new light on this fascinating, pivotal moment in world history.
About the author:
Barry was born and raised in and around New York City. He received bachelors, masters, and doctoral degrees from Cornell and Yale and lived and studied in Germany, Greece, Israel, and Italy.
Barry holds fellowships from the American Academy at Rome, the American School of Classical Studies at Athens, the American Enterprise Institute, the German Academic Exchange Program, the Korea Foundation, the MacDowell Colony, and the National Endowment for the Humanities, among others. He is the recipient of Cornell's Clark Award for Excellence in Teaching.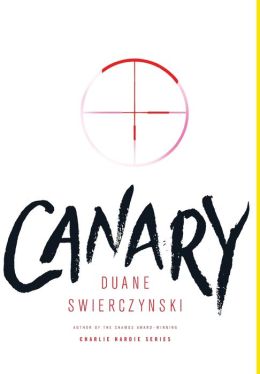 CANARY by Duane Swierczynski
It's dangerous enough when an ordinary college girl turns confidential informant. Even more dangerous when she's smarter than the killer, kingpins, and cops who control her.
Honors student Sarie Holland is busted by the local police while doing a favor for her boyfriend. Unwilling to betray him but desperate to avoid destroying her future, Sarie has no choice but to become a "CI"–a confidential informant.
Philly narcotics cop Ben Wildey is hungry for a career-making bust. The detective thinks he's found the key in Sarie: her boyfriend scores from a mid-level dealer with alleged ties to the major drug gangs.
Sarie turns out to be the perfect CI: a quick study with a shockingly keen understanding of the criminal mind. But Wildey, desperate for results, pushes too hard and inadvertently sends the nineteen-year-old into a death trap, leaving Sarie hunted by crooked cops and killers alike with nothing to save her–except what she's learned during her harrowing weeks as an informant.
Which is bad news for the police and the underworld. Because when it comes to payback, CI #1373 turns out to be a very quick study…
About the author:
I'm the author of several novels including the Edgar-nominated and Anthony Award-winning EXPIRATION DATE, as well as the Shamus Award-winning FUN & GAMES, the first book in the Charlie Hardie trilogy. My new stand-alone novel, CANARY, will be published by Mulholland Books in February 2015. I've also written over 100 comics about Godzilla, Judge Dredd, Deadpool, Punisher, Cable, the Immortal Iron Fist, Birds of Prey, Werewolf By Night, X, Bloodshot and the Immortal Iron Fist, among other literary figures. In a previous life, I was a journalist. In my next life, I want to play the piano during lunch shift in the L.A. bar where Philip Marlowe goes to check his messages.

To be entered in the drawing shoot an email over to Jon?@crimespreemag.com (remove the question mark) And put CONTEST in the subject line. Also please put your address in the body of the email.
We will pick the winners on March 6th.