Tags
Related Posts
Share This
Screenwriter announced for Mark Greaney's THE GRAY MAN.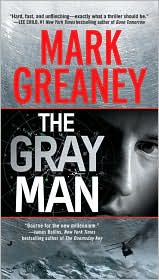 THR is reporting that Adam Cozad has agreed to handle screenwriting duties for the upcoming THE GRAY MAN.
Based on Mark Greaney's novel, TGM takes readers on a lightning-paced international chase where the hunter becomes the hunted. American operative Court Gentry, dubbed the Gray Man for his legendary skill as a shadowy killer for hire, races against time and battles teams of government assassins as he crisscrosses Europe to save one imprisoned family— knowing innocent lives hinge upon his success as a cold-blooded killer.
Adam has been attached to a number of adaptations including Christopher Reich's RULES OF DECEPTION, David Morrell's BROTHERHOOD OF THE ROSE and the next Jack Ryan film. Cozad learned writing from his uncle, a playwright, and his first screenplay, Dubia, has actor Eric Bana attached as an exec producer.