Tags
Related Posts
Share This
Sean McFate's SHADOW WAR is featured in this week's giveaway
This week Crimespree magazine, in conjunction with Friday Reads Facebook page, is offering you a chance to win a copy of SHADOW WAR by Sean McFate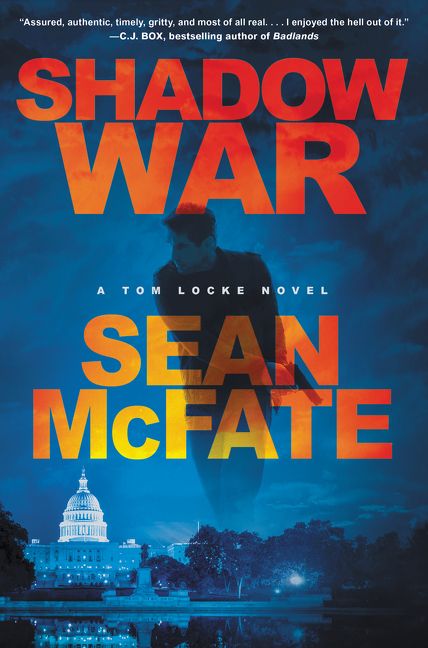 SHADOW WAR
On a secret mission to save a businessman's family in Eastern Europe, an elite American mercenary navigates perilous setbacks and deadly enemies in this blistering hot series debut in the tradition of Brad Thor, Tom Clancy and Daniel Silva.
Tom Locke is an elite warrior working for Apollo Outcomes, one of the world's most successful private contracting firms. Pulled out of a mission in Libya, he is tapped for an unusual and risky assignment: a top-secret black op in Ukraine. He is given one week to rescue an oligarch's family and pull off a spectacular assault that could have long-lasting repercussions for this imperiled eastern nation and the world.
What Locke doesn't know is that the operation comes with a dangerous complication: Brad Winter. Locke's ambitious and enigmatic boss is engaged in a secretive, high-stakes geopolitical chess game with several influential powerbrokers in capitals around the world. One misstep could cost him—and Locke—everything.
While Locke has methodically planned the mission and hand-picked a team of trusted operatives to pull it off—and save his ass if things go south—he doesn't count on running into a former love, war correspondent Alie MacFarlane, who impulsively makes a move that risks both their lives. Locke is an intelligent, iconoclastic soldier who specializes in pulling off the impossible. But all his brilliant preparation can't prevent the kind of backstabbing and deception that could lead to catastrophe…and tip the balance of power toward Putin's Russia.
About The Author:
Sean McFate is a professor of strategy at the National Defense University and Georgetown University's School of Foreign Service. He is also a Senior Fellow at the Atlantic Council, a think tank. He served as a paratrooper in the US Army's 82nd Airborne Division and then worked for a major private military corporation, where he ran operations similar to those in this book. He is the author of The Modern Mercenary: Private Armies and What They Mean for World Order, and holds a BA from Brown University, a MA from Harvard's Kennedy School of Government, and a PhD in international relations from the London School of Economics and Political Science (LSE). He lives with his wife in Washington, DC.
To be entered in the drawing shoot an email over to Jon?@crimespreemag.com (remove the question mark) And put CONTEST in the subject line. Also please put your address in the body of the email and, if you want to, include a joke.
We will pick the winners on June 17th.