Tags
Related Posts
Share This
SEAWITCH by Kat Richardson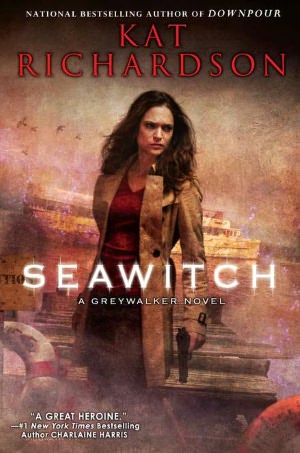 SEAWITCH
By Kat Richardson
 RoC
August 2012
When a ship that was lost twenty-seven years ago suddenly reappears in a Seattle harbor, seemingly without a crew, Harper Blaine is immediately on the case. However, much to her dismay, Rey Solis insists on investigating the mystery with her. Solis is a great cop, but uncomfortable with the eerie and unexplained. For Harper, the unexplainable is as common to her day as a cup of coffee.
Finding bloody symbols and traces of sinister magic in the cabin of the ship, the two are launched into separate, but linked cases. Solis begins to track down the possible murder of a passenger's wife, while Harper dedicates herself to finding the source of the paranormal disorder that surrounds the strange ship. As they dive deeper and deeper into the mysteries surrounding the Seawitch, they realize that they must find a way to work together or the secrets of the ship will be lost forever.
A master of paranormal thrillers with a heroine that is tough as nails, Richardson crafts books that are always a delight to read. Each book builds Harper into a richer and more interesting character that always leaves me salivating for more. The tension between Solis and Blaine feels real and never tacked on. Blaine is a tough, hardened woman, but also emotionally connected with her love interest, Quentin. It gives the reader an emotional connection to the heroine that is rarely fleshed out as subtly or well-crafted as Richardson delivers.
As the danger increases in SEAWITCH, the pages flew through my fingers like cards in a high-stakes poker game. My heart was racing, my palms were sweating, and I couldn't wait to see what might come up next. While I am usually not the biggest fan of the paranormal mystery genre, Richardson has always found a way to engross me in the rich, sinister world of the Grey and Blaine's hidden Seattle. This book was no exception. As the bullets fly and the magic thickens, SEAWITCH becomes a book that is impossible to put down. As always, the worst part of reading her novels is waiting for the next one.
-Bryan VanMeter