Tags
Related Posts
Share This
SHOTS FIRED by C.J. Box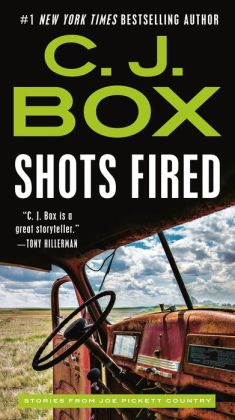 Shots Fired
C. J. Box
G. P. Putnam's Sons
July 2014
Author C. J. Box has written formidable novels, fourteen in all. With his latest book, Shots Fired, he has exceptionally ventured into the short story realm. The plot lines vary from adventure to crime procedural to historical. There are ten stories, three of them never published, and four include Box's main character Joe Pickett, although in the story "The Master Falconer" he makes only a cameo appearance.
The book opens with "One-Car Bridge" where Joe Pickett must deliver bad news to the manager of the Crazy Z Bar Ranch, that the Game and Fish Commission will not allow the landowner, Lamar Dietrich, to convert his ranch into an exotic game hunting operation. Anyone who likes the Dallas TV series will thoroughly enjoy this story since Lamar could be a member of the Ewing family.
A favorite of Box fans will be "The Master Falconer" starring Nate Romanowski, a former Army Special Forces soldier. This story can best be described as John Wayne, Nate, meets an Arab terrorist, a Saudi plutocrat. A quote from the book that describes the Saudi, "If you're looking for one of the main guys establishing a violent religion that exists to wipe us out…" Knowing what he is up against, Nate gives the Saudis a true taste of western spirit as he overcomes the trap set. If for no other reason this must be read for the spectacular ending alone.
Although the other nine plots relate to aspects of western culture, two in particular are very interesting. "Pronghorns of the Third Reich" was created from a 1936 photograph, which can be seen at the stories end. The plot is based on a true story regarding Hitler's desire to bring parts of the Western United States to Berlin. The other one, "Le Sauvage Noble (The Noble Savage)" has a French woman, Sophie, attracted to an American Indian, Jimmy. With a powerful storyline Box gives an insightful look into how French women regard American male Indians. Having as part of the setting Disneyland, and Buffalo Bill's Wild West Show, the author shows who the true "savages" are in this riveting tale.
A must read, a really short story, "Blood Knot," only about 1000 words, is very heart warming. This generational tale captures the unbreakable bond between a grandfather and his granddaughter.
Shots Fired is a collection of ten wonderful short stories. Blending humor, adventure, suspense, and sometimes showing the cruelness of man this book is a great summer read. Each independent story had enough twists and turns to have the reader want to turn the page to the next storyline, wondering what Box will come up with next. Although most people are not exposed to short stories, readers' only regret with this compilation of tales is that they are over all too soon.
Elise Cooper