Tags
Related Posts
Share This
SHUT UP AND GIVE ME THE MIC by Dee Snider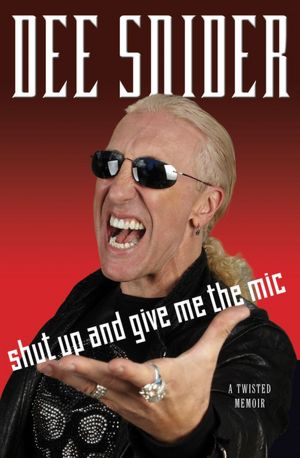 Gallery Books
Publication date: May 8th, 2012.
As a teenager of the 80s, Hard Rock/Heavy Metal was my life. I don't mean I listened to it, I mean it was who I was. The posters covered my walls (including a 4×6 of the cover of Iron Maiden's KILLERS), my wardrobe consisted of jeans, my leather jacket and my concert shirts. Even my bedroom door was covered in pics of my favorite bands.
One of the bands at the forefront of the rock/metal explosion of the 80s was Twisted Sister. Their videos became more than just hits, they helped change music videos and helped MTV embrace the genre. And make no mistake about it, MTV was a big part of a movement that saw Maiden, Motley Crue, Ratt and, later on, the thrash bands like Metallica, Megadeth and Slayer take over the country and airwaves.
SHUT UP AND GIVE ME THE MIC sees Twisted Sister's frontman Dee Snyder share the story of both his life and the long road traveled by TS. Twisted Sister was not your typical hard rock band in that the music and performing came first. Dee makes it quite clear that sex and drugs were not part of his Rock N Roll. Getting to the top was too important to risk that. This is not a book full of tales of overdoses and nights of debauchery. It is a book that goes into the details of making the dream happen. We hear about record contracts and points, about the industry politics and, yes, tales of the insanity of Rock.
Stories include how Lemmy (of Motorhead) helped TS get their first break in the U.K. The band then went on to have incredible success in England and Europe before even getting a U.S. Contract. Legendary producer Tom Werman was hired, by the label, to handle TS's breakthrough STAY HUNGRY, deserves very little actual credit for it. Werman wanted them to do some Saxon covers and was opposed to including I Wanna Rock and We're Not Gonna Take It, the two biggest hits of the band's career.
While in college, I worked in radio and had an opportunity to interview Dee. I found him to be smart, funny and quite blunt. He had no qualms about giving his opinion on anything and everything.
Those same traits are in abundance here. Dee is quite candid about both his professional and person life. And while he is the first to admit he has a big ego, he also points out that many of the traits that helped take Twisted Sister to the top of the charts and sell over ten million albums also contributed to the demise of the band. A follower of Tony Robbins, Dee believes in giving 100% and never giving up. But as the success came, so did the amount of power Dee had in the band. What started out as 5 five guys together became Dee and company. Something that did not sit well with some members. Dee admits this, but is makes it quite clear that without some of that, many of the breaks they got would not have materialized.
The one real complaint I have with this book is that post Twisted Sister is covered in a couple dozen pages. So many musicians from the 80s have fallen by the wayside, but Dee has found success off the stage. I would have really enjoyed reading more about that time and how he coped with the changes that occurred in music in the 90s. Also, more info about the reuniting would have been nice. I can't help but think that plenty of talking went into patching things up to the point where they can work together again.
Anyone's telling of their life is going to tainted by time and self-perception, but Dee Snider offers  up a book that is as honest as one can be. With colorful stories of a life in Rock N Roll as well as a behind the scenes look at the conflicts that pulled the band apart, SHUT UP AND GIVE ME THE MIC will be enjoyed by anyone that grew up rocking loud and proud in the 80s. Well worth the price!
Jeremy Lynch