Tags
Related Posts
Share This
SMILEY'S PEOPLE gets Blu-ray release on August 6th.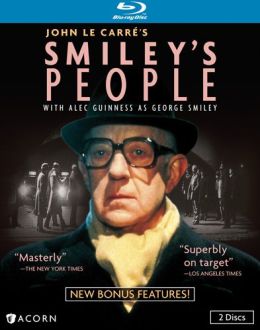 On August 6th, Acorn Media releases SMILEY'S PEOPLE on Blu-ray.
The gripping sequel to John le Carré's classic Cold War-era spy drama, Tinker Tailor Soldier Spy, Smiley's People debuts on Blu-ray from Acorn on August 6, 2013, now with more than an hour of new bonus features. Oscar® winner Alec Guinness (Obi-Wan Kenobi in Star Wars, Lawrence of Arabia) reprises his BAFTA-winning role that the San Francisco Chronicle called "the crowning role of the great actor's long career" as retired spymaster George Smiley for the 1982 sequel. Filmed on location in London, Paris, Hamburg, and Berne, Smiley's People co-stars Patrick Stewart (Star Trek: The Next Generation, X-Men), Siân Phillips (Dune), Eileen Atkins (Upstairs, Downstairs), and Bill Paterson (Traffik). 
Both men had supposedly outlived their usefulness to the Circus, the British Secret Intelligence Service: George Smiley, the retired head of espionage, and General Vladimir, an aging informant who reported to him. When the general walks into a bullet after sending an urgent message to his old handler, the Circus asks Smiley to "tidy things up." But Smiley hears Vladimir's message as a call to arms against his nemesis, the Soviet super spy Karla, once again tantalizingly within his grasp. 
Extras:
Deleted/extended scenes (62 min.)
interview with John le Carré (20 min.)
production notes
le Carré biography and booklist
an insert with a glossary of main characters and terms