Tags
Related Posts
Share This
SOUTHLAND: THE COMPLETE 2nd, 3rd AND 4th SEASONS Comes Home in February.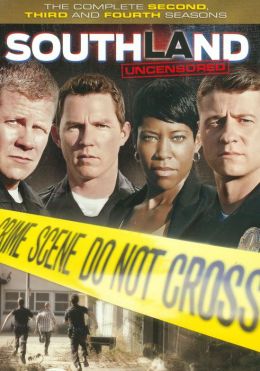 For the last couple of years, folks have been wondering when Warner would offer up SOUTHLAND on DVD. Season one was released, but that was it. Well, Warner Home Video has announced that SOUTHLAND: THE COMPLETE SECOND, THIRD AND FOURTH SEASONS will be released on Feb 5th, 2013.
Delving into the lives of cops, criminals, victims and their families, the acclaimed police drama Southland – from John Wells Productions – presents an authentic look at police work in Los Angeles unlike any other. With their lives on the line every day, these cops and detectives sometimes triumph, and sometimes fail – but always fight to try and make a difference. Warner Bros Home Entertainment Group (WBHEG) will release Southland: The Complete Second, Third and Fourth Seasons on DVD February 5, 2013, just in time for the show's fifth season broadcast premiere on TNT. This 6-disc DVD release contains all 26 explosive episodes from Seasons Two, Three and Four, plus over one hour of bonus extras, all priced to own at a $59.98 SRP.
Created by Ann Biderman (NYPD Blue) and executive produced by John Wells (ER, The West Wing), Christopher Chulack (ER, Third Watch), and Jonathan Lisco (K-Ville, NYPD Blue), Southland: The Complete Second, Third and Fourth Seasons contains 26 episodes of the gripping, lightning-paced series about the courageous men and women who live their lives on a jagged edge, confronting criminals, victims and a sprawling city laced with vice and seething with danger. From the beaches to Beverly Hills, Hollywood to South Central, Southland gets underneath the skin of Los Angeles, with a police unit comprised of bold rookies and hardened veterans. From gangbangers to murder and drug deals gone wrong, sometimes the poison they live with on the job comes home with them. Police action hits hard in Southland, and fans get to experience all the victories and all the anguish with an unrestricted look at the LAPD.
Extras:
Southland: Redefining the Cop Drama – Producers and Cast Reveal the Story Behind Creating a New Series About the LAPD (FromSeason 2)
Backing the Badge: Selected Scene Commentary – Stories Behind Some of the Season's More Powerful Sequences (FromSeason 2)
A Crime Tour: Southland'sCrime Map – Revisiting Shooting Locations (FromSeason 2)
Unaired Scenes (FromSeasons 2, 3 and 4)
If you are not familiar with SOUTHLAND, it is a damn good show and this set is well worth the price.