Tags
Related Posts
Share This
Steve Hamilton: THE SECOND LIFE OF NICK MASON Tour Dates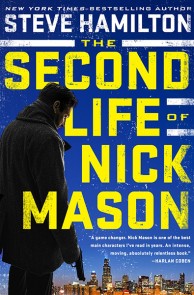 Steve Hamilton has long been known as an exceptional author, but hype behind THE SECOND LIFE OF NICK MASON has raised Steve's profile to a level that Steve has never had before.
Nick Mason is out of prison. After five years inside, he has just been given the one thing a man facing 25-to-life never gets, a second chance. But it comes at a terrible price.
Nick Mason is out of prison, but he's not free. Whenever his cell phone rings, day or night, he must answer it and follow whatever order he is given. It's the deal he made with Darius Cole, a criminal kingpin serving a double-life term who still runs an empire from his prison cell.
Forced to commit increasingly more dangerous crimes, hunted by the relentless detective who put him behind bars, and desperate to go straight and rebuild his life with his daughter and ex-wife, Nick will ultimately have to risk everything–his family, his sanity, and even his life–to finally break free.
I was fortunate enough to read NICK MASON about a year ago and was very impressed.
TEXAS
Murder by the Book
Wednesday, May 25 at 6:30 PM in Houston, TX
http://www.murderbooks.com/
ARIZONA
Clues Unlimited 
Thursday, May 26 at 12:30 PM – 2:30 PM in Tucson, AZ
http://www.cluesunlimited.com/
Poisoned Pen
(In conversation with Boyd Morrison)
Thursday, May 26 at 7:00 PM in Scottsdale, AZ
http://www.poisonedpen.com/
WASHINGTON
Seattle Mystery Bookshop
Wednesday, June 1 at 12:00 PM in Seattle, WA
http://www.seattlemystery.com/
OREGON
Powell's – Cedar Hills Crossing
Wednesday, June 1 at 7:00 PM in Beaverton, OR
http://www.powells.com/
MISSOURI
St. Louis County Library – "Suspense Night"
Thursday, June 2 at 7:00 PM in St. Louis, MO
http://www.slcl.org/
CALIFORNIA
Book Passage
Friday, June 3 at 7:00 PM in Corte Madera, CA
http://www.bookpassage.com/
Book Carnival
Saturday, June 4 at 3:00 PM in Orange, CA
http://www.annesbookcarnival.com/
Book Soup
Sunday, June 5 at 4:00 PM in West Hollywood, CA
http://www.booksoup.com/
Warwicks
(In conversation with Don Winslow)
Monday, June 6 at 7:30 PM in La Jolla, CA
http://www.warwicks.com
MASSACHUSETTS
Brookline Booksmith
Wednesday, June 8 at 7:00 PM in Brookline, MA
http://www.brooklinebooksmith.com/
NEW YORK
Barnes & Noble
Thursday, June 9 at 7:00 PM in Kingston, NY
https://stores.barnesandnoble.com/store/2226
Barnes & Noble
(In conversation with Lee Child)
Thursday, June 16th at 7:00 PM in New York, NY
East 86th & Lexington
http://stores.barnesandnoble.com/store/2278