Tags
Related Posts
Share This
Steve Israel and Catherine Ryan Hyde are featured in this week's giveaway
Crimespree magazine, in conjunction with Friday Reads Facebook page, is offering you a chance to win copies of THE GLOBAL WAR ON MORRIS by Steve Israel, and PAY IT FORWARD by Catherine Ryan Hyde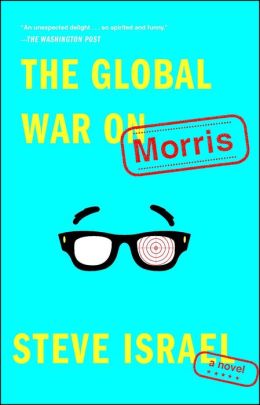 THE GLOBAL WAR ON MORRIS
A witty political satire ripped from the headlines and written by Congressman Steve Israel, who's met the characters, heard the conversations, and seen the plot twists firsthand.
Meet Morris Feldstein, a pharmaceutical salesman living and working in western Long Island who loves the Mets, loves his wife Rona, and loves things just the way they are. He doesn't enjoy the news; he doesn't like to argue. Rona may want to change the world; Morris wants the world to leave him alone. Morris does not make waves.
But one day Morris is seduced by a lonely, lovesick receptionist at one of the doctors' offices along his sales route, and in a moment of weakness charges a non-business expense to his company credit card. No big deal, you might think. Easy mistake. But the government's top-secret surveillance program, anchored by a giant, complex supercomputer known as NICK, thinks differently. Eventually NICK begins to thread together the largely disparate and tenuously connected strands of Morris's life—his friends, family, friends' friends, his traffic violations, his daughter's political leanings, his wife's new patients, and even his failed romantic endeavors—and Morris becomes the US government's new public enemy number one.
A hilarious, debut novel from a charismatic author, The Global War on Morris toes the line between recent breaking headlines and a future that is not that difficult to imagine.
PAY IT FORWARD
An immediate bestseller when first published, Pay It Forward captured hearts all over the world, became a wildly popular film starring Kevin Spacey and Helen Hunt, and spawned a generation of increased altruism. This fifteenth anniversary edition includes a new introduction by the author. It takes an inspiring and moving tale of a young boy who believed in the power of kindness and brings it to a new generation of readers.
Twelve-year-old Trevor McKinney accepts his social studies teacher's challenge: come up with a plan to change the world. His idea is simple: Do a good deed for three people and ask them to "pay it forward" to three others in need. He envisions a vast movement of kindness and goodwill spreading beyond his small California town and across the world. The project, however, appears to falter. Jerry, a bum who receives some allowance money from Trevor, returns to a life of dissolution. Trevor wants his pretty, hardworking mother—a woman who raised him lovingly despite struggles with alcoholism—to marry his teacher, Reuben St. Clair. Reuben is a scarred, bitter, untrusting man with a disfiguring injury from Vietnam. He seems to come alive only when in front of his class. For a time that matchmaking brings nothing but problems. Ultimately, though, unusual things start to happen. Crime rates dip across the nation, and nobody seems to know why. Then a journalist tracks down the source: an epidemic of random acts of kindness.
Anyone who has ever despaired of one person's ability to effect change will rejoice in Trevor's courage and determination to see the good in everyone.
To be entered in the drawing shoot an email over to Jon?@crimespreemag.com (remove the question mark) And put CONTEST in the subject line. Also please put your address in the body of the email.
We will pick the winners on January 9th.