Tags
Related Posts
Share This
Steve Ulfelder and Edgar Cantero are featured in this week's giveaway
Crimespree magazine,  in conjunction with Friday Reads Facebook page,  is offering you a chance to win  a copies of  WOLVERINE BROS. FREIGHT AND STORAGE by Steve Ulfelder and THE SUPERNATURAL ENHANCEMENTS by Edgar Cantero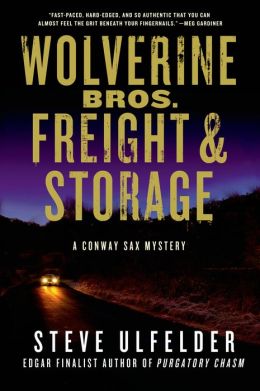 WOLVERINE BROS. FREIGHT AND STORAGE by Steve Ulfelder
Conway Sax is a man on a mission—this time all the way out to Los Angeles, where he has sworn to track down and rescue Kenny Spoon, a washed-up TV star who has been kidnapped by gangsters. Conway, who's never met Kenny, is doing a favor for Eudora Spoon, a dear friend and fellow member of the Barnburners, the tight-knit maverick AA group whose members Conway has sworn to help. After hauling Kenny back to Massachusetts, Conway finds himself caught between Eudora and her two sons: Kenny, and Harmon, the local police chief who resents his talented, troubled half-brother. Each member of the Spoon family distrusts and even despises the others, it seems … and each has a past full of dark secrets that may explain why.
While Conway unravels this mystery, Eudora is murdered on her own estate by a sniper. She dies in Conway's arms, muttering cryptically that "they can have it." Conway vows to avenge the murder, but the clues he uncovers only seem to point to more suspects. Things get even more complicated when Conway, still separated from his girlfriend Charlene, begins a passionate affair with Tricia, Harmon's estranged wife, that can't help but cloud his judgment. The more secrets Conway uncovers, the more danger he's in as this masterfully written page-turner from critically acclaimed author Steve Ulfelder builds to a wrenching confrontation.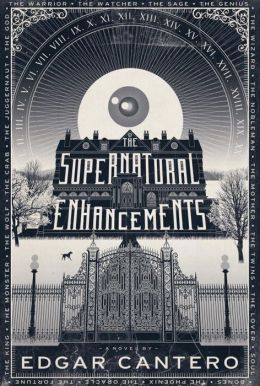 THE SUPERNATURAL ENHANCEMENTS BY Edgar Cantero
A mesmerizing novel…what begins as a gothic ghost story soon evolves into a wickedly twisted treasure hunt in The Supernatural Enhancements, Edgar Cantero's wholly original, modern-day adventure.
When twentysomething A., the European relative of the Wells family, inherits a beautiful, yet eerie, estate set deep in the woods of Point Bless, Virginia, it comes as a surprise to everyone—including A. himself. After all, he never knew he had a "second cousin, twice removed" in America, much less that his eccentric relative had recently committed suicide by jumping out of the third floor bedroom window—at the same age and in the same way as his father had before him…
Together with A.'s companion, Niamh, a mute teenage punk girl from Ireland, they arrive in Virginia and quickly come to feel as if they have inherited much more than just a rambling home and an opulent lifestyle. Axton House is haunted…they know it…but the presence of a ghost is just the first of a series of disturbing secrets they slowly uncover. What led to the suicides? What became of the Axton House butler who fled shortly after his master died? What lurks in the garden maze – and what does the basement vault keep? Even more troubling, what of the rumors in town about a mysterious yearly gathering at Axton House on the night of the winter solstice?
Told vividly through a series of journal entries, cryptic ciphers, recovered security footage, and letters to a distant Aunt Liza, Edgar Cantero has written an absorbing, kinetic and highly original supernatural adventure with classic horror elements that introduces readers to a deviously sly and powerful new voice.
To be entered in the drawing shoot an email over to Jon?@crimespreemag.com (remove the question mark) And put CONTEST in the subject line. Also please put your address in the body of the email.
We will pick the winners on September 26th.
When we do the drawing we will be sending an extra something.