Tags
Related Posts
Share This
STONE COLD by C.J. Box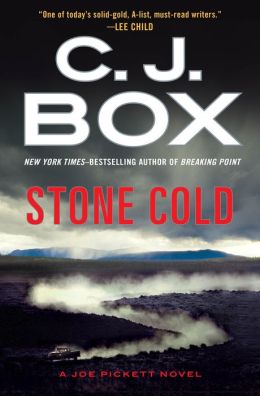 Stone Cold
C.J. Box
Penguin Group
March 11th, 2014
9780399160769
C.J. Box's latest, Stone Cold, a Joe Pickett novel, will definitely become a "mega country hit." His books based in Wyoming have the flavor of a modern day Western, where the setting becomes almost a character in itself. Box's novels always include two plots: one involving Pickett's family and the other, a story of adventure, with some political intrigue and culture from that part of the US.
Although the Joe Pickett novels are a series, each individual book is a stand alone, due in large part to Box's writing style.  Stone Cold has two intertwining plots, one involving Pickett's college age daughter and the other a murder for hire company based in Wyoming's Black Hills.  Each piece of the story goes beyond the "who done it," allowing the reader to question modern day issues.
The family story has Pickett's older daughter, Sheridan, worried about a fellow dorm student at the University of Wyoming who appears to have a mass shooter type personality. Box explores the issue of the 2nd Amendment on college campuses, such as, whether colleges should be gun free zones, or should college students have the freedom to carry a weapon.
The other plot has Joe traveling to Wyoming's Medicine Wheel County to investigate the shady dealing of a wealthy landowner, Wolfgang Templeton, who owns the county, land, people, and law.  The issue focuses on being above the law for righteous reasons.  Box gets the point across through his characters:  Joe tends to bend the rules while Nate Romanowski goes against the rules.  For those who have not read any past books, Nate's personality is the antithesis of Joe, a loner who lives in the woods with his falcons. This plot brings back "Frontier Justice," since Nate rights a wrong against those morally degenerate elitists who are untouchable in society. The other issue examined is the idea of handouts and the dependency it can cause among the people.
Stone Cold has non-stop action with captivating characters.  The plots are thought provoking, suspenseful, and compelling.  These western tale books are a welcome difference from other crime novels and should be on any readers' list that wants a thrilling mystery.