Tags
Related Posts
Share This
STUNTMAN! by Hal Needham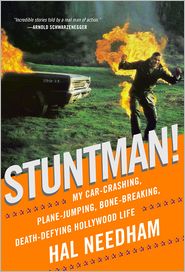 Publisher: Little, Brown and Company
Publish date: Feb 9, 2011
I grew up in the 1980s. When my Mom would go out, my Dad was in charge of watching me. Since he was interested in power tools and shit like that, my babysitters became Dana Hersey and the Movie Loft on Channel 38, the weekend movies at 12PM, 2PM, and 4PM on Channel 56, and my Dad's collection of videos taped off of pay cable. He would say, "This is a good movie, you should watch this." Then he'd sit me down with the TV and off he'd go. His tastes ran a certain way, and I was indoctrinated to a certain type of film genre; stuff like War, Crime, Western, and all-purpose Action. Films like Little Big Man, Smokey and the Bandit, The Longest Yard, French Connection 2, McQ, White Lightning, and The War Wagon. A common thread throughout many of these films is Hal Needham.
Hal Needham did stunts or coordinated stunt work on all of these films. Over the course of his career he broke 56 bones, knocked out teeth, and punctured a lung. He was the first director to ever use outtakes over the ending credits of a film. He revolutionized the way stunts were performed and filmed. Many of hi s innovative concepts are still being expanded upon today.
Needham was born in Memphis and served as a Paratrooper in the Army during the Korean War. In the late 50s he moved to Hollywood where his fearlessness, military training, and skills picked up during adolescence got him hired on the TV show Have Gun Will Travel where he ended up working as a stunt double for the great Richard Boone. From there, he went on to work closely with actors like John Wayne and Burt Reynolds.
One thing I absolutely loved about this book was reading about what went on behind the scenes of those movies I grew up watching. Realizing how many people got hurt or almost killed during filming was a shock. Another was reading about the tribe of Stuntman Mike types who lived and worked in Hollywood during the 60s and 70s. I would have loved to be a part of that. These motherfuckers put their bodies through hell for shitty pay and other people's success. Maybe it's the masochist in me that finds this noble.
I'm so happy I took the time to read this book. More than once it made me smile and I found it to be a fun ride through a lesser-known side of film history. I think I might get it for my Dad for Christmas. He would like it.
Dave Wahlman