Tags
Related Posts
Share This
Sundance Channel, Acorn Media bring THE LAST PANTHERS series to U.S.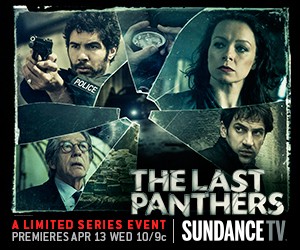 Next Wednesday, The Sundance Channel airs the first episode of THE LAST PANTHERS, a British crime drama based on the infamous Pink Panthers, a European gang that preyed on Jewelers. The series theme song is original music by the late David Bowie. You can find the opening credits, featuring said song, below.
A daring diamond heist in the south of France bears the hallmarks of the supposedly retired "Pink Panthers," a gang famed for their bold daylight raids and movie-style getaways. It seems like the perfect crime—until a young girl is killed in their escape. This sets a British insurance-loss adjuster (Oscar® nominee Samantha Morton), a former MI-6 officer (Oscar® nominee John Hurt), a French-Algerian cop (Tahar Rahim), and a Serbian soldier-turned-thief (Goran Bogdan) on a dangerous collision course across Europe. What starts with diamonds leads to guns, drugs, high finance, and corruption at the heights of power.
Acorn Media has acquired the North American home entertainment rights and will release THE LAST PANTHERS, on DVD and Blu-ray, on May 31st with a suggested retail price of $39.98 each. In addition, Acorn Media  will make its U.S. premiere on Sundance beginning Wednesday, April 13 with next-day availability to buy digitally on Thursday, April 14 via multiple platforms including iTunes, Amazon Video, Vudu, Google Play, Xbox Video, and Sony Interactive Entertainment.