Tags
Related Posts
Share This
Superman: Dark Knight Over Metropolis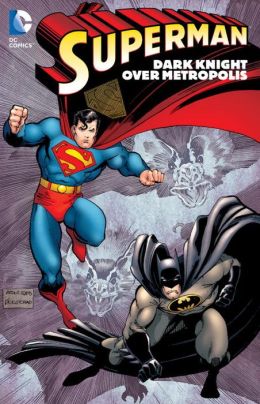 Much has been said about DC Comics "New52". The line-wide reboot is now over two years old, and shows no sign of reverting to the company's previous 75 years of continuity. Some folks love the modernization of these classic superheroes, while others have been left a bit cold.
In a wise move by the company, DC is bundling up much of its backlist into trade collections. This decision has made many of its older fans (of course, meaning me) quite happy. Stopping into my local comics shop this past Wednesday, I was very happy to find SUPERMAN: DARK KNIGHT OVER METROPOLIS looking back at me from the shelf.
Collecting the three-part storyline from 1990, as well as Action Comics Annual #1 from 1987, this trade collection focuses on one of the early Superman/Batman team-ups. In the early days of comics, these team-up adventures of the World's Finest heroes were often portrayed as best friends getting together to share adventures: friendly neighbors from Metropolis and Gotham City hanging out together like it's the most natural thing in the world. Almost like super-heroes stopping by to borrow a cup of (super-powered) sugar.
But after the 1985 miniseries CRISIS ON INFINATE EARTHS, which also was a continuity reboot of the DC line, the World's Finest team-ups were shown to be… not quite as comfortable. Why would a daylight-loving champion of Truth, Justice, and the American Way willingly team-up with a shadow dwelling vigilante? The answer, of course, is he wouldn't.
So, if these two were going to share an adventure, it had better make logical sense. With DARK KNIGHT OVER METROPOLIS, Batman is trying to solve the death of homeless man. During the investigation, he learns that the man shows traces of a rare kind of radiation. With the clues leading to Metropolis, we've got ourselves a team-up. This adventure carries many of the hallmarks of 1990's Superman: the villainous Intergang organization, the growing relationship between Clark Kent and Lois Lane, and Lex Luther as a corporate raider. This is a fun, fun story. Comic book masters John Byrne, Dan Jurgens, Jerry Ordway, Roger Stern, Bob McLeod, and Art Adams are masters of their respective crafts, showcasing a fast paced story with tons of moving parts. Sure, I read this in single issues when it first came out, but reading it again as a trade was some of the most fun I've had reading comics in some time.
One point I feel the need to make: This is not the Superman and Batman that is currently being shown in the monthly titles. Every generation has portrayals of classic heroes to call their own. And while the Version: 2013 Supes and Bats may not be my cup of tea, I'm damn glad DC is packaging up the classics. And pricing the book at $14.99 was a nice touch as well.
With the announcement of the next DC movie being the cinema debut of Superman and Batman together, this collection wasn't meant to appeal just to nostalgia fans like me. The spotlight will be shining on the World's Finest team-ups, and hopefully new fans will be finding themselves in comic shops or online at Comixology. So it's a guarantee we'll be seeing more of these classics repackaged as collections.