Tags
Related Posts
Share This
TAFT 2012 by Jason Heller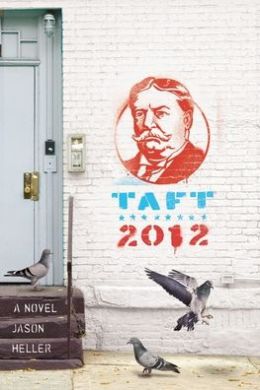 Publisher Quirk Books
The year is 2011. The election is in full swing. The American people are underwhelmed by both parties to say the least. To most, it looks as it does most years. They will have to choose a candidate that is merely the lesser of two evils. That is, of course, until former president William Howard Taft stumbles out of the Rose Garden nearly 100 years after his mysterious disappearance. Suddenly there is a candidate with a Republican sensibilities and a progressive Democratic spirit.
We soon find out Taft has been asleep beneath the garden for the past century. After that long, he finds that he must be reintroduced to the world; a place now populated with Blackberries, civil rights, computers, and "engineered" food products. He instantly becomes a media sensation, and soon after, a political movement. Thousands rise up in a Tea Party-like mob to demand that Taft run for president again, a hundred years after his embarrassing defeat.
As the former president explores a world that moved on quite a bit in his absence, we are forced to look at the "progress" we have made as a nation, both brilliantly laudable and morally abhorrant. It is an amazing gift to craft a book that is as humorous and thought-provoking as this one is. Never did it drag or become a treatise on political issues. Instead, with Heller's light tone and witty plot, it moves like a butterfly, lightly touching a topic, before flitting off to the next and allowing the reader to draw their own conclusions.
TAFT 2012 is a brilliant, satiric masterpiece. Laden with insightful observations about the modern electoral process without ever being preachy or condescending, Heller's book is a must-read no matter which side of the aisle you
-Bryan VanMeter