Tags
Related Posts
Share This
Television Gems that did not make it.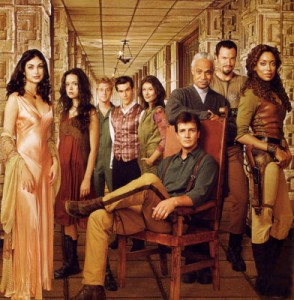 Most television shows that fail do so for good reasons, but some fail because of stupid Networks, stupid Network execs or stupid viewers.
Lee and I were talking about really great shows that died before their time. We came up with four very strong ones and are wondering what shows you think deserved better.
Firefly: By now, everyone likely knows the story. Joss Whedon's western set in space had great characters, fun dialogue and cool action. Fox aired the episodes out of order and pre-empted the show more than once. Even as a fan that watched it, I never knew when it was on. Thirteen Episodes were made.
Sports Night: Aaron Sorkin's look behind the scenes at a Sports Center-type show that featured Peter Krause, Felicity Huffman, Josh Charles, Joshua Malina, Sabrina Lloyd and Robert Guillaume. It was smart, it was funny, it was Sorkin at his finest. It was one of the first dramedy shows and many were quite sure what to make of it. It lasted two seasons. Had The West Wing not been running at the same time, Sorkin likely would have taken Sports Night to cable.
Kidnapped: This is the one that many of you are likely unfamiliar with. It featured Jeremy Sisto as a Kidnapping expert that is called in when the son of a powerful couple (Timothy Hutton, Dana Delaney) is…well, kidnapped. Delroy Lindo also starred as F.B.I. Agent Latimer King. The show was smart and kept you guessing. Sadly, NBC did not air all 13 eps in a row, folks had to watch the latter ones online to see what happened. I think that they did air them six or seven months later, in the middle of the summer.

My final pick is Intelligence. This Canadian show lasted two glorious seasons. It reminded me of The Wire in that the "good" guys were always all that good and the "bad" guys not all that bad. Ian Tracey starred as Jimmy Reardon, a criminal kingpin that loves his daughter, avoids violence whenever possible and appears to have a conscience. Don't get me wrong, he is still a criminal and the show does not let us forget that. Klea Scott plays Mary Spalding, the head of Vancouver's organized crime unit. She wants to uphold justice, but also climb the ladder to the top. She and Jimmy form an uneasy alliance, doing just enough to keep the other willing to co-operate.


In my mind, a Gem would have had two or less seasons. Shows like Veronica Mars should have continued, but they did a lot in the three years they had so it was not a total crime.
What other really great shows did not make it?