Tags
Related Posts
Share This
The Alex Segura Interview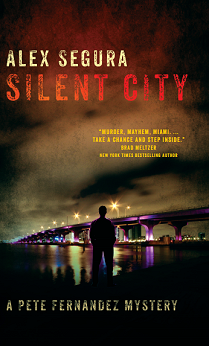 October 29, 2013 saw the release of Alex Segura's debut novel SILENT CITY. A dark, noir P.I. tale that is set in the steamy underbelly of Florida. SILENT CITY has been a well-received novel from a new voice in crime fiction. Today, I get the opportunity to sit down – via email – with New York based Alex Segura. Two guys who like comics and mysteries, how cool is that?
Dan: SILENT CITY is a dark, moody, fantastic read. How long has the story of newspaper reporter Pete Fernandez been in your brain?
Alex: Well, first off, thanks for saying that, Dan. It means a lot. I'm so grateful for the response and kind words that have come out following the release of SILENT CITY. It's been wonderful.
Pete's been in my brain for a long time, it feels like. Even before I sat down and realized I was going to write a crime novel, the name had stuck in my brain. Fernandez is actually my mother's maiden name, and my maternal grandfather's last name, so that part was a bit of a hat tip to him – a really great guy who basically taught me how to be a good, stand-up person. Naming Pete after him was the absolute least thing I could do, but it felt right.
People always say "write what you know" or "write the book you want to read," and while those two sayings do sound trite, I found them to be pretty helpful, at least for me, as a new novelist who had no idea what I was doing when I sat down to start SILENT CITY. I knew I had this character – this drunken screw-up who had great taste in music, sort of a good heart but no real motivation or goals – and I knew I wanted to write a crime novel in Miami, but not the Miami people saw on TV or in theaters. The gritty, past-the-beach Miami. The suburbs. The less gentrified areas. I wanted to show the city I grew up in, and I wanted to show the diversity and people I met while growing up. It took me a little while to realize those two things belonged together – somewhere on my computer there's a Miami mafia saga that will never see the light of day and a lot of very emo short stories starring proto-Pete that should probably disappear.
I came to crime fiction relatively late, I guess. I was in my twenties and had just moved to New York when I got into Chandler and other essential crime novelists. I burned through those classic novels. But I felt like something was missing, at least for me. I couldn't really relate to Marlowe – though, I did enjoy spending time with him – or his contemporaries because, well, I'm not as cool as Marlowe. It wasn't until I got into the Nick Stefanos books by George Pelecanos, the Pat and Angie series by Dennis Lehane and the Tess Monaghan books by Laura Lippman that I realized, wow, detectives don't have to be these ultra-cool, forces of nature. They can be flawed, they can have bad friendships and terrible relationships, they can be injured and lose people they care about. That's when it clicked for me that maybe this protagonist in these stories, this sensitive guy who usually had one-too-many and this idea of a Miami crime story could merge into something. That was the genesis for SILENT CITY.
Dan: Pete's story seems to have a lot of elements of decay in it. The decay of the newspaper industry. The decay of the Florida neighborhoods. The decay of Pete's sobriety. What is it about these themes that interest you as an author?
Alex: I think SILENT CITY really wallows in gray areas – which I find interesting. I'm always curious about what happens to people after their big moment. Where did the great QB go when he retired? What was the director's follow-up to his Oscar-winning debut? What happened to the star of that hit sitcom? So, when you meet Pete, he's past his prime. He's moved back home – something we all dread, but end up dealing with in some way as adults – and is basically treading water and drinking himself to death. I don't know if I was overtly trying to show decay as much as movement and evolution. Nothing is preserved in amber. At the newspaper where Pete works, you can tell the industry is creaking, but there are still people there doing good work. Miami is a lovely place with sun and palm trees and great food – but some of the neighborhoods are poor or dangerous. Pete's a great, nice guy – but he's also a drunk that is numbing himself because of where his life is. I wanted to give the reader a sense that this was a real person dealing with real problems who is then thrust into an unexpected and very dangerous situation.
Dan: I have always liked the stories where our heroes are the classic crusading newspapermen. "Ink stained heroes" I once heard them called. I heard that you yourself have a background in journalism. Can you tell us more about that? And how much of Pete's experiences in the newsroom come from your personal experiences and observations?
Alex: I was very careful about trying my best to get the newspaper side right – I have a lot of friend who still work in newspapers, and one of the most gratifying things they told me after reading the book was that those scenes rang true. I did a lot of different things as a journalist – some reporting, copy editing, design, website producer – so I tried my best to remember what it was like working at a newspaper. You work long hours, you're disconnected from a "normal" schedule, you're always "on," basically. I wanted to show how that could affect someone – especially someone who's already emotionally strained. For newspaper people who work on the night desk, that really becomes your life – it's a vampire-like existence. You work late, go out with your coworkers, get home even later, sleep into the afternoon – rinse, repeat. That can wear on you. So, I tried to show that as much as I could, because I remember that as a big part of my experience in newspapers.
I drew from my personal experiences to make the scenes feel authentic, but once Pete was dropped into the setting, it became it's own thing, which is the best you could hope for.
Dan: I've said before how SILENT CITY just teems with mood and atmosphere. Who do you count as your literary influences?
Alex: I lean toward crime fiction that is more about character, setting and mood. I'm a fan of a strong plot and a big reveal – I think a good surprise is rare and special. But I want to read about characters that seem real and aren't invincible that live in places that are evolving and have their own quirks. So, it's no surprise I love The Wire, and the many great crime writers that helped that show – mainly Pelecanos, Lehane and Price. I love characters that jump off the page, who have quirks that make you feel like you're sitting across from them at a restaurant, so I gravitate to anything Megan Abbott or Sara Gran write. I think Gran's Claire DeWitt books are amazing, and strike such a wonderful mood and create a world you just want to live in. James Ellroy was one of the first modern crime writers I read and I love everything he's done – the way he portrays his city, his frightening characters and just the way he puts words together. His use of omission and the way he makes you pay attention are so subtle – and I know a lot of people find his more recent work difficult, but I think that's good. But I think it's fine to have to work for something – to read closely or go back and double-check a passage. It shows you're engaged. And he's the master of that. Lastly, I think if anyone wants to take a master's course in PI fiction, they should buy a stack of Lawrence Block's Scudder and Reed Farrel Coleman's Prager books – because that's all you need to know. Classics, both of them.
Dan: The term "noir" seems to be tossed around a lot. And every time, it's used in a slightly different manner. What is your definition of "noir?"
Alex: I don't know if I have one, honestly. I think "noir" is more of a feeling – you know when you're experiencing it. I think it's about emotions, like passion, lust, rage and anger. It's about having a mood and featuring characters that are not all what they seem and putting the reader in a position where they question everything. While I think there's definitely a time period linked to noir, it doesn't necessarily have to be from the past. I think it's a flexible term.
Dan: What impresses me so much about Pete's journey on the dark side of life is that it comes from the same mind that brought us ARCHIE MEETS KISS! Tell us about this most unlikely of meetings.
Alex: Oh, that was a lot of fun, and totally unexpected. I was talking to Archie Co-CEO Jon Goldwater about some work stuff and he mentioned he'd talked to Gene Simmons about a potential crossover. I thought it was hilarious. Archis, of all the comic characters, is truly the most malleable. He can interact with almost anyone. So, while the idea seemed absurd, I knew it could work. I asked to write it, he told me to put a pitch together and it happened. Dan Parent – one of the best Archie artists ever – drew it and made my script look great and I have some crazy memories of signing with Gene and Paul Stanley and Dan in LA and Comic Con. I'm really thankful I got to be a part of it. I still have a promo poster for the storyline hanging in my apartment.
Dan: So many of us read Archie books at some point in our lives. Archie is a touchstone in American culture. As someone who knows the character so well, please tell us why you think the Riverdale Gang has such staying power?
Alex: I just think they represent an ideal we all relate to – good kids spending time with their friends and enjoying each other's company. There's a security in reading those comics, and they're always funny and entertaining. They also evolve with the times, and we can see them in any kind of situations that still seem plausible – from meeting with KISS to being zombies to hanging out in outer space or the year 3000. They're part of the world culture and, I think, hold a special place in the hearts of a lot of people. It's not just nostalgia, though, because people keep reading them, which is amazing and great.
Dan: Today's newsstand is very unique in the way that so many of our accomplished authors do in fact work in both mediums. Greg Rucka and Victor Gischler are two names that come immediately to mind. Do you think this is a case of comic book fans becoming mystery authors, or vise versa?
Alex: I'm not sure. I think it's a case of writers trying to tell stories in mediums that interest them and best tell the story, which is the ultimate goal. There are things you can do in a novel – and levels of control that you can have – that aren't available in comics. When you write a book, you are the ultimate decision-maker. That's appealing on some levels, especially when the story is personal and something you want to tell a certain way. Comics, on the other hand, allow you to collaborate with people to create a unified story, that probably looks and feels differently from what you first visualized, but – ideally – is stronger for it. I think it depends on what medium suits the story you want to tell, not so much about wanting to do things in different mediums just to do it.
Comics also allow more genre freedom, I think, so you don't feel labeled as a "crime writer," per se. I mean, I wrote about KISS coming to Riverdale, which is worlds away from SILENT CITY. That kind of freedom is fun.
Dan: On the days you stay home, crabby or sick, what is your "Go-To" movie? The film you've seen a million times, but can watch again and again?
Alex: I'll watch Godfather II whenever it's on – if I'm flipping around and stumble on it, I usually sit and finish it. It's the best. Not a wholly original answer, I realize, but there you go.
Dan: Which leads right into the Desert Island question: You can only have one book, one album, and one movie. Name them!
Alex: Tough final question, Dan!
Book: White Jazz, James Ellroy
Album: Remain in Light, Talking Heads
Movie: Mean Streets
Thank you for spending time with me today, Alex!