Tags
Related Posts
Share This
THE ANGST-RIDDEN EXECUTIVE by Manuel Vazquez Montalban
Editors note: Bryan VanMeter is our newest reviewer, we've known him for about two years and have been after him to review for us for a while. He's an avid reader and goes through books like nobody's business. He was a huge help at Bouchercon St. Louis doing things behind the scenes that people may not have even seen, including moving band equipment. He's a great guy and here's his blog debut.
You can follow him on twitter: @CrymeBryan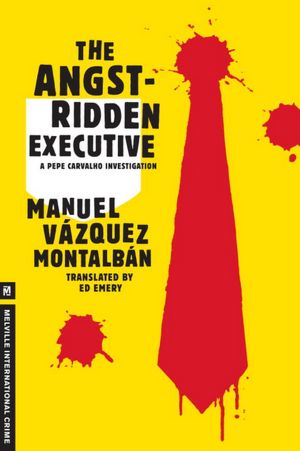 Publication date: Jan 10, 2012
Melville International Crime
If Graham Green, P.G. Wodehouse, Raymond Chandler, and Anthony Bourdain all sat together in front of a typewriter, the result would be Pepe Carvalho. A fifty year old detective, Carvalho delights in his lust for excellent food, lively wines, rich cigars, and his prostitute girlfriend Charo. In this, his third novel, he is hired by a grieving widow to discover the truth about her husband's death, a man Carvalho had coincidentally met years before.
On the surface, the case seems open and shut. A man with a reputation for unusual sex and an appetite for prostitutes eventually ends up on the bad side of a pimp and is killed. The fact that the body smells of perfume and is found with a woman's underwear stuffed in his pockets only emphasizes the simple conclusion. However, to Carvalho, the murder scene is just that, a scene staged to reinforce the easiest answer and allow an overrun police force to move on to the next case. He immediately sets out to find the truth amongst high-powered executives, leftist revolutionaries, poets, pimps, and thieves, resting only to indulge in the most succulent delights offered in Barcelona.
Though this book was originally written in 1977, it never feels dated or out of touch. The vibrant characters feel just as fresh as when they were first written. The plot moves quickly from beginning to end, pushed along by the wit of Carvalho and the oddball characters he surrounds himself with. The subject matter itself is dark, but accented with sparkling humor and rich food. On a sleepless night, the beleaguered investigator begins cooking and remarks, "To begin cooking duck at one in the morning is one of the finest acts of madness that can be undertaken by a human being who is not mad."
While this is the third book in the series, you will not feel as though you are missing anything by starting here. However, if you enjoy this book as much as I did, I am sure you'll be in your local bookstore with an armload of Pepe Carvalho novels shortly after finishing it. Either that or on the next flight to Barcelona to eat duck at one A.M.
Bryan VanMeter