Tags
Related Posts
Share This
THE BIG REAP by Chris F. Holm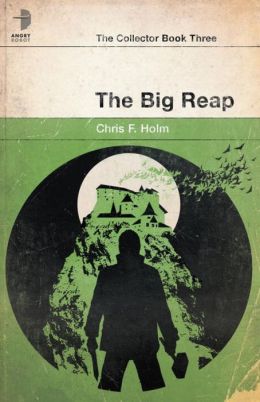 Angry Robot Books
Pub date: July 30th, 2013
The third part of a trilogy can be the hardest part. Pressure to meet expectation. All signs lead to "Here." "Here" is where the proverbial buck stops. Put up or shut up.
Which brings us to THE BIG REAP. Part "Three" of Holm's outstanding Collector series, REAP more than stands up to the expectations that fans of both mystery and dark fantasy have placed on it. While we learned how our tortured hero Sam Thornton became a Collector for hell in the first book, (DEAD HARVEST. Go get it. Now. I'll wait.) in this book we're witness to his first mission to collect a soul. Not quite told in a parallel to the main story, the flashback to Sam's first collection is a big story. Because how things begin so often sets the stage for how things end.
In a series that tells the tale of the conflict between heaven and hell with a healthy dose of pulp undertones, you'd think you were already dealing with "big." Heaven, hell, souls saved and souls damned. These are not exactly small concepts. But where this series has succeeded has been to tell this story through the eyes of our poor, damned Sam Thornton. Big concepts alone are hard to relate to, but tell those tales through the eyes of a man who was damned to hell for trying to save the life of his beloved wife Elizabeth? Yeah, here's a guy I've wanted to learn more about. Walk awhile with Sam. Share his burden a bit. When we first meet him in DEAD HARVEST, that pulp influence was in full effect. With book two (THE WRONG GOODBYE. Go pick it up. I'll still be here waiting), Sam has a bit of a buddy adventure with a recently deceased extra-large sidekick named Gio. With this adventure, Sam starts to relearn what it's like to open up to friends again. He grows as a character, and the reader is rewarded with a fantasy-type story that actually has character development.
With REAP, Holm moves on to explore the monster movie tropes, concepts he clearly has a passion for. How do I know this? Easy.
Because it's clear he's having so much damn fun.
After barely surviving an attack by the horrific Simon Magnusson, Sam learns that his next mission is to track down and destroy the other eight members of Magnusson's group called the Brethren. The Brethren were once Collectors like Sam, but they were able to sever their ties to heaven and hell through a ritual that ended up causing the Great Flood. (I told you that this story was BIG.) Unlike Sam, who has to continually move from one body to the next, they are now tied to physical bodies. Each member of the Brethren has changed in various ways, and as Sam tracks each one across the globe, we get to see the obvious joy Holm takes in putting different spins on the classic monster hunter stories that we all think we know.
As Sam battles his way through the ranks of the Brethren, he sees how these former Collectors have devolved from human to things far from human. At the same time, we are able to see how Sam himself has changed since we first met him. While only having been in hell's employ since the days of World War II, Sam has slowly been changing. His sense of compassion has been fading. Sam has been showing a more flippant attitude. Things that would have once been morally objectionable, now don't seem to matter. What separates Sam from the monsters he is condemned to hunt? Can a man who has been dead for decades still find a reason to care? And if your soul is already under the domain of hell, why bother trying to hold on to human morality?
Big concepts in a book filled with big ideas and big action. But what fans of Chris Holm's Collector series already know is this: there is plenty of big heart here as well.
Dan Malmon