Tags
Related Posts
Share This
THE BOOK OF YOU by Claire Kendal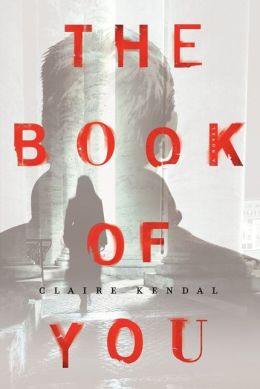 The Book Of You
Claire Kendal
Harper Collins
May 6th, 2014
The Book Of You by Claire Kendal is a terrifying psychological thriller that keeps the reader in extreme suspense. This debut novel is reminiscent of best selling author, Elizabeth Haynes', first book Into the Darkest Corner. Both have all too real stories of how a stalker attempts to take control of their victim's life, escalating to attempted murder.
The plot is a gripping portrait of a woman determined to survive. The story is told in two parts, both showing how the legal system can fail women. Although this novel takes place in England it could easily happen here in the US. One part has journal entries written by the victim, Clarissa, outlining the stalker, Rafe's, behavior. As he intensifies his obsession with Clarissa, she knows that to survive she must conceive a plan of collecting evidence against him. Clarissa chronicles his voice messages, his gifts, and his attempts to see her. This harrowing nightmare continues to escalate to a point where she fears for her life.
Intertwined with the journal are the courtroom scenes. It is here alone that Clarissa feels she can find relief, having been chosen as a juror on a rape case. Another juror whom she meets, Robert, offers her a caring and attentive relationship. Clarissa's situation runs parallel to the rape victim, an admitted drug user whose lifestyle becomes the focus of the trial, rather than the defendant's actions. The author brilliantly shows how Clarissa sees how the justice system stacks the deck against female victims, almost shaming them into submissiveness.
An interesting part of the book is when the author uses the more terrifying and sadistic aspects of fairy tales to explore modern relationships. Although considered children's stories today, writers like Brothers Grimm, and stories like Bluebeard have aspects of violence against women. The book opens with a quote from this fairy tale, "I forbid you so strictly, that if you should venture to open the door, there is nothing that you may not have to dread from my anger."
Kendal creates a mysterious plot through weaving in the story a number of unknowns. Why would Clarissa sleep with Rafe; what happened to certain characters and their relationships; and if Rafe and Clarissa had consensual sex how would that affect her gaining justice?
The Book Of You is a terrifying, realistic, and thought provoking novel. Kendal offers a plot that builds in tension through her portrait of two women trying to gain justice. Readers will be hooked from the first page. But, a word of warning: you might lose a little sleep since you will feel that you are personally a part of the story.
Elise Cooper