Tags
Related Posts
Share This
THE BURNING ROOM by Michael Connelly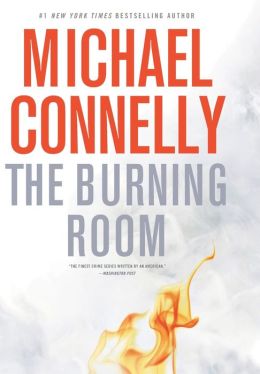 THE BURNING ROOM
Michael Connelly
Publisher: Little, Brown and Company
Publication date: November 3rd, 2014
Harry Bosch is back with Michael Connelly's novel, The Burning Room. Readers will not be disappointed in this thrilling story that has Bosch at the twilight of his LAPD career mentoring a "mod squad" cop, full of ambition, vim, and vigor. As with his previous novels Connelly has Bosch being the victim's advocate and always thinking "Everybody counts or nobody counts."
This book differs a bit in that Connelly has Bosch attempting to solve not one, but two cold cases as he works in the LAPD's Open-Unsolved Unit. Because the murder rate is significantly down in Los Angeles there is more manpower devoted to solving crimes that are decades old. The first case is highly charged and politically sensitive that involves a former Mayor who is now a possible Gubernatorial candidate. He used the case of Orlando Merced to promote his career. Orlando Merced, shot by a sniper, survived in a wheelchair with a bullet lodged in his spine. He died ten years later from complications, and Harry knows that the bullet can be the key to finding the shooter. Making matters more complex is the possible connection between this case, an arson blaze, and two robberies. Bosch's new partner, Lucia (Lucy) Soto is investigating on her own time the deaths of a number of children killed in a fire. Although she was one of the lucky ones that survived, her life changed forever. After finding out Soto's involvement in the Bonnie Brae killings Harry is willing to go along with her, bending some rules in order to have the cases intertwined. The book takes the reader on a journey as Soto and Bosch search for clues to find the culprits.
Bosch is paired with a new partner, Lucy Soto, who can best be described as a female Harry Bosch. Although having no previous homicide experience, she is seen as a young and shining star in the LAPD. She matches Harry's dedication; coming to work early, leaving late, and following the evidence no matter where it leads. They are both willing to be less than candid with their superiors and are not beyond upsetting high-profile people. Harry is willing to mentor her because he sees a lot of himself in Soto while Lucy is very willing to learn and listen to his words of knowledge.
Fans of Harry Bosch will be able to get multiple doses. Besides The Burning Room, there is a new series being produced by Amazon that will premiere in February of next year. It can be a binger's delight as they see Harry "live" starting with the ninth story in the Bosch series, City of Bones. Also, the next Connelly book will include Harry Bosch, Mickey Haller, and Lucy Soto.
The Burning Room is a fast-moving and engrossing police procedural. The interplay between Bosch and Soto is very dramatic. Readers will be riveted to the storyline, but also learn about forensics, Los Angeles history, investigative techniques, and when to say good-bye to a job. Anyone who wants an exciting novel with a fascinating ending should read this book.
Elise Cooper