Tags
Related Posts
Share This
THE CREED OF VIOLENCE by BOSTON TERAN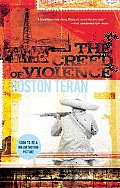 Counterpoint
Release date: Nov 10th, 2010
Some years back, Boston Teran appeared on the crime fiction scene with a novel called God Is a Bullet. I read it and was blown away. The story was a straight up meth-fueled, Helter Skelter ride. Later, I was lucky enough to find a pristine hardcover copy in one of those warehouse-like used bookstores, the ones that sell shit by weight or at dirt cheap prices and get their inventory from donation bins placed around your city. I have some issues with these stores, but I digress: God Is a Bullet rocked.
Teran's follow-up Never Count Out the Dead was an uneven but still entertaining crime tale. His third, Prince of Deadly Weapons suck hard in my opinion. Teran wrote two more after that, but I couldn't tell you anything about those. I couldn't understand how Teran rocketed out of the gate only to go down kind of sadly.
Once again I was poking around my local library when I spotted the spine of a hardcover book bearing Teran's name with the title The Creed of Violence. I read the synopsis, and a line from the great LL Cool J popped into my head: "Don't call it a comeback, I've been here for years."
It's 1910 and the Texas-Mexico border seethes with the energy and discord only felt before a revolution. For Mexico, it was a revolution, for us it was nothing more than a dress rehearsal for the shit brewing in Europe that would come in a few years. It was a time and place, depending on your morals and levels of conscience, when you could make some money.
Rawbone is an assassin and mercenary who comes into possession of a truck loaded with military grade weapons. His attempt to sell them puts him on a collision course with Agent John Lourdes of the Bureau of Investigation, the precursor to the FBI. Rawbone and Lourdes have a deep past connection, but only one of them knows it. A plan is formed to take the weapons across the border to see just who would be looking for that type of weaponry in such a volatile climate.
Creed is written in a different voice than Teran's previous work. The story is a familiar one, but the setting is what makes it stand out. I think most people that read it will compare it to Peckinpah's The Wild Bunch, crossed with the recent video game Red Dead Redemption. The book clocks in at 243 pages, and compared to Teran's other work, about 100-150 pages light. Some would say it is Hemingway-esque with its stripped down writing style. At times I felt that the level of detail and development was lacking. Rawbone is a cool literary creation. I dug his style. In a different world, he would make a cool pulp character.
Creed is cool story but doesn't come close to God Is a Bullet. That is one novel worth seeking out. Creed is hopefully just the comeback that Teran needs – that is, if people still care.
Dave Wahlman