Tags
Related Posts
Share This
THE FIXER by Joseph FInder reviewed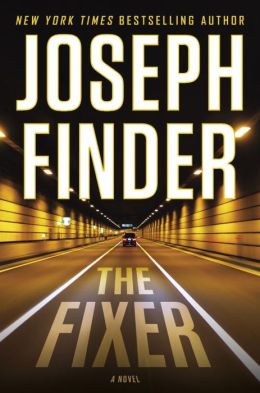 THE FIXER
Joseph Finder
June 9th, 2015
Dutton
The Fixer by Joseph Finder is a suspenseful novel. What makes this story special is its unique and engaging emotional human dynamics. Besides corruption and blackmail, the author delves deeply into the complex relationship between father and son. The reader wonders how much of a person's past is known even in a close relationship.
Right from the opening pages this book is a real page-turner. After investigative reporter Rick Hoffman loses his job, fiancée, and apartment his only option is to move back into his childhood home. Neglected for years when his father had to move into a nursing home after suffering a stroke, Rick starts to make renovations and finds $3.4 million hidden in the walls. Trying to find out where the money originated and how it was placed there, Rick finds out that his father had deep dark secrets and a life he knew nothing about.
As the story progresses, more of the father's past is revealed; although it does not make him any more of a sympathetic figure. This is also the case with the portrayal of Rick as a superficial and self-centered person, which contributes to the reader's initial dislike. Yet, as the story advances, the reader is drawn to Rick when he finds his moral character. Even with some bad choices and questionable actions, readers will develop a fondness for Rick as he exposes corruption within Boston's Big Dig Highway Tunnel project of cash payoffs, political deal making, and cover-ups that followed the twenty year multibillion dollar project.
The Fixer blends suspense with a captivating and thrilling plot. As Father's Day approaches this is a good book that emphasizes the father-son relationship. It is a fast paced book that readers will not want to put down.
Elise Cooper