Tags
Related Posts
Share This
THE HARD BOUNCE by Todd Robinson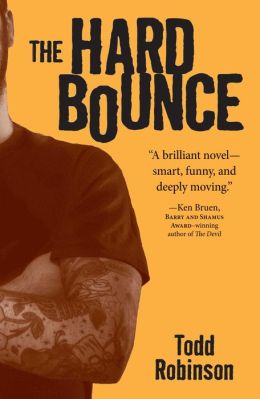 Tyrus Books
Pub date: Jan 18, 2013
Another local boy has done good and I'm thrilled that I get to use that phrase again. Todd Robinson, creator of Thuglit, has written his debut novel and it fucking rocks. Todd is from Boston by way of Fall River, Massachusetts, a tough town in its own right, and because what he has done for the world of crime fiction, it can be forgiven that he currently makes his home in New York City.
THE HARD BOUNCE is an original take on the classic story of a couple of underdogs being hired to find a missing person. Boo and Junior are a combined 470lbs and $10,000 in tattoos. They run a security agency called 4DC (when you read what that means…well…it made me smile) and handle bouncing duties at the toughest bars and clubs in Boston. Boo and Junior are hired to locate the missing teenage daughter of the local district attorney and mayoral candidate.
Now to me, what made this story was the originality of the main characters and the perfect use of Boston as the setting for the story. Both men were the products of broken homes and met when they were placed in a hellhole called Saint Gabriel's Home for Boys. Their description makes me think of many people I have known over the years, some of whom I've called friends and brothers. Boston itself becomes a cast member in the story because Robinson uses it in ways that have not been done before. From Kenmore Square punk clubs (R.I.P. The Rat) to the hipster paradise of Allston, you will see parts of this town that you really have to be from here to know about. There are also little subtle details laced throughout the story that only a person from the area would recognize. The story is brutal at times and also has moments that made me laugh out loud. One key factor is the heavy dose of heart and soul. You will find yourself caring about Boo and Junior and the people that make up their world.
They only thing I didn't like about the book was that it ended. Once I hit a certain point I knew that I would be soon turning to the last page and I was depressed. That does not happen often enough for my taste. But from my point of view, it seems like we will be hearing from Boo and Junior again. Todd Robinson has found a very fertile patch of ground in the parched landscape of crime fiction. I know he will plant and grow on that fucker for a long time to come.
Oh, one last thing. Something I love in crime fiction is when the main character is a badass, but has a friend even scarier and tougher than they are themselves. You hear him mentioned in reverential tones when they wonder whether they need some help for the task at hand. Boo and Junior have Twitch. I really like Twitch. I want more of Twitch.
Dave Wahlman